Editor's note: at the time of publication, Omar Seghiri is no longer a student at Saint Peter's University.
When Omar Seghiri first stepped on a pitch as a young boy growing up in London, England, he could dream of nothing more than becoming a professional footballer.
As he grew older, "football," or soccer, became one of the most important aspects of his life. He continued to play for different teams and participate in trials at football academies, until he was eventually noticed by a scout.
"He asked if I fancied going to America," Seghiri said. "I didn't know anything about college sports, I had no idea that soccer was so big."
After choosing Saint Peter's University rather than immediately pursuing a professional career, Seghiri, now a freshman, faced the same decision countless other student-athletes are confronted with: what do I want to study?
Student-athletes entering college must decide whether they will choose a major true to their interests and pursue a career in that field, or choose a less rigorous major that will allow them more time to focus on their sport in the hopes of playing professionally.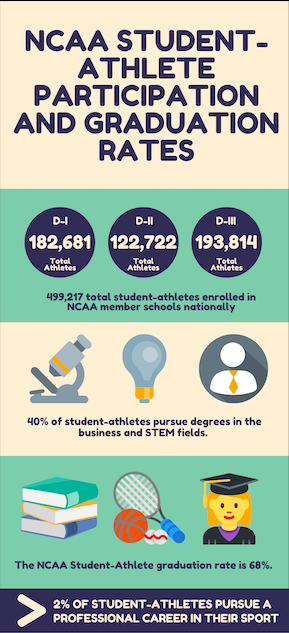 The decision student-athletes make regarding their major has a great impact on their future, especially when considering a professional career, according to Alicia Jefferson, the university's academic athletic coordinator.
Jefferson states that some student-athletes might focus more on developing their skills in preparation for a professional career and graduation becomes an afterthought, whereas others might just want to study for a degree.
"It depends on the sport," Jefferson said.
According to the National Collegiate Athletic Association (NCAA), as of March 2018, less than 2 percent of the half a million NCAA student-athletes actually advance from collegiate athletics to a professional career.
This means that of the 499,217 student-athletes enrolled in universities nationally, only about 9,000 move on to a professional career.
Such low numbers indicate how important the student aspect of student-athlete truly is.
The NCAA reports that a majority of student-athletes are studying majors in the business or STEM fields; programs that are rigorous in their own right, especially at Saint Peter's University.
According to the Saint Peter's website, majors in the business and STEM disciplines are two of the most demanding; the programs require almost 70 credits respectively, along with 60 credits required for the core.
Despite the demands, according to Saint Peter's Athletics records, business management is the most popular major among the student-athletes.
Seghiri, an international business major, chose his major both because it is a passion of his, but also because he recognized the value of such a degree and the opportunities it could present for his future.
"Hopefully this degree can get me somewhere if soccer doesn't work out," Seghiri said.
Today's athletes are studying majors that will set them up with the tools they will require to have a successful career after they graduate.
"If I can't continue playing, I will use my education and put my degree to good use," said a Saint Peter's sports management student who wished to remain anonymous.
NCAA statistics show that the graduation rate for its student-athletes is higher than that of the general student body.
In comparison with the Federal Graduation Rate, the NCAA's Graduation Success Rate reports that Division I student-athletes had higher graduation rates in every major demographic group except for white males.
Every year, that rate continues to increase.
Statistics such as these show that student-athletes successfully find a balance between their rigorous practice class schedules; finding this balance is important so that athletes do not fall behind and remain eligible.
"Student-athletes face a lot of pressure because they are expected to have good grades and also perform at high levels. There were moments in which I had to take time out of my study or that I even had to miss class in order to practice and to focus on my game," said former Saint Peter's golfer Jose Cardona.
Student-athletes come to college to lay a foundation for the rest of their lives, according to La Quita Frederick, Ph.D., head of sports management at Saint Peter's.
For students like Seghiri, who does not yet know what his post-graduation plans are, the seeds he plants now could grow into various opportunities for his future.
"I have no idea where I want to go, but this is a good opportunity," he said. "And I'm loving every minute so far."