The packed home crowd roared after four straight three-pointers swished into the basket. And, just like that, the Peacocks were back in the game.
Saint Peter's University's men's basketball team bested crosstown rival, New Jersey City University Gothic Knights, 88-61 in the "Battle of the Boulevard," a match that hadn't been seen in almost 40 years. Over 1,110 people witnessed the resurgence of the out-of-division play Thursday night at the Yanitelli Center.
"Though (NJCU) is Division III, they don't play like it," SPU Assistant coach Ryan Whalen said. "We had to continue playing with high energy."
The Peacocks were without head coach Shaheen Holloway and returning players Cameron Jones and KC Ndefo, who were both benched, but that didn't seem to matter to the young squad playing on the court.
Freshmen guards Aaron Estrada and Doug Edert along with redshirt-junior guard Nazeer Bostick, who did not play last season due to NCAA transfer rules, each took a starting spot. Veteran players Derrick Woods, a senior forward, and Quinn Taylor, a senior guard, were the only returning members who started.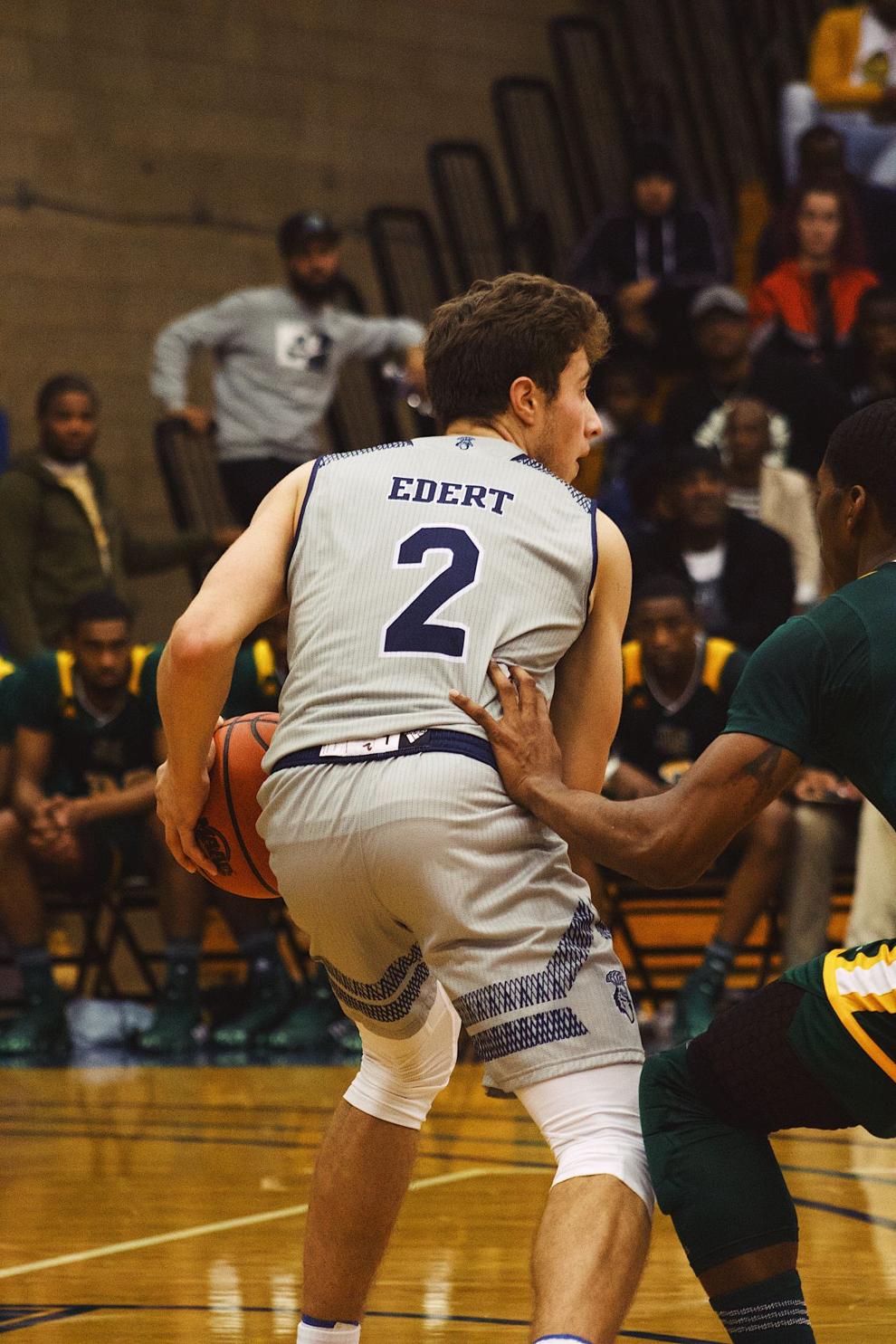 But a new starting five meant a new set of dynamics.
The Peacocks had a number of turnovers and missed shots five minutes into the first half, leaving SPU's crowd quiet, but NJCU's pumped up. But thanks to some layups and defensive stops by Woods and a three-ball from Edert, NJCU cheered a little less.
Saint Peter's rotated the ball above the key — between Estrada, freshman guard Daryl Banks III and freshman forward Fousseyni Drame — trying to either cut a pass under the basket to Woods, who recorded 104 total points last season, or kicked to the corner for Edert, who ended his Bergen Catholic high school career with 1,017 points; both plays would soon be moves that shifted the game.
Woods and Taylor, who ranked 12th in total rebounding average and free throw percentage and 10th in offensive rebounds in the Metro Atlantic Athletic Conference, helped keep their squad in the game — tying 17-17, 20-20 and 22-22 — but it was Edert who put the Peacocks on top with a quartet of triples, pushing the lead 34-28, an advantage that didn't change the rest of the game.
"I wasn't nervous at all," said Edert, who finished with a team-high 17 points. "I just wanted to get in the game."
A fastbreak layup from Estrada, dunk by Woods and pair of made foul shots by Banks, who led The Patrick School to a 2017 NJSIAA Boys Basketball Tournament title, closed the first half. The Peacocks were up 42-36.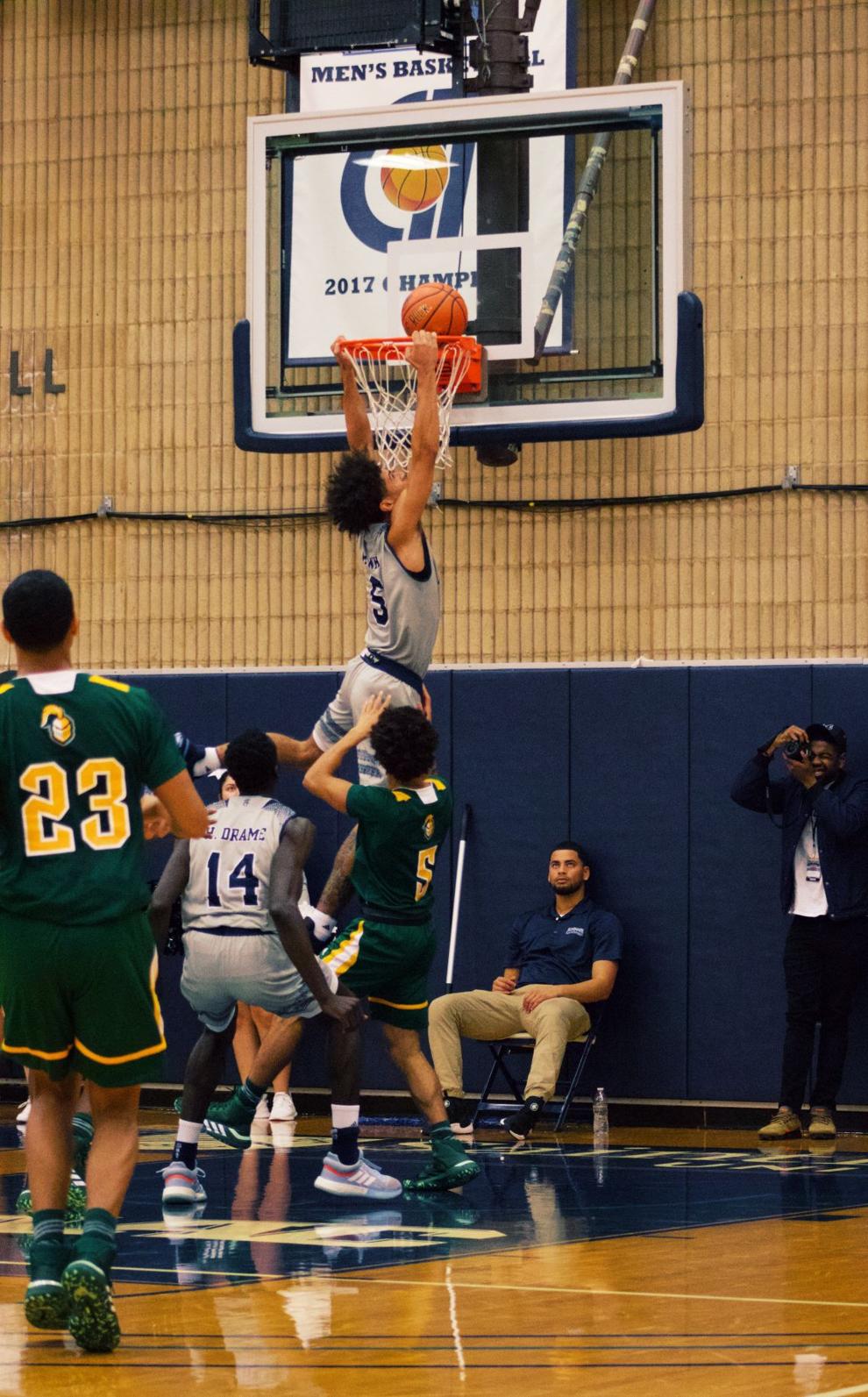 Estrada, who scored over 2,000 career points at St. Benedict's High School, and freshman forward Hassan Drame, twin brother of Fousseyni, began pouring in a handful of points to help SPU maintain their 54-46 lead early in the second half.
"I was nervous at first. You know, first college game," Estrada said. "But once I scored my first point, I got comfortable."
Woods and Fousseyni got back in the game, snatching rebounds and tipping the ball in. Taylor helped run the floor with a drive under the basket as freshman guard Matthew Lee — who subbed in for Estrada who was in foul trouble — checked into the game, sinking an easy layup to stretch SPU's lead to 68-56.
The Peacocks used their zone defense to close in on NJCU, who went scoreless for over four minutes with four remaining in the half, leaving SPU up 72-56.
Taylor and Bostick, who played two seasons at Penn State, each brought in some final points through a layup, free throws and jumper as sophomore guard Dallas Watson, who was a rotating player in the game, knocked down a triple as the shot clock hit zero, extending the lead to 84-58.
But the play that nailed the 88-61 victory was a double-trouble assist from Hassan to Fousseyni, who crushed the final two points.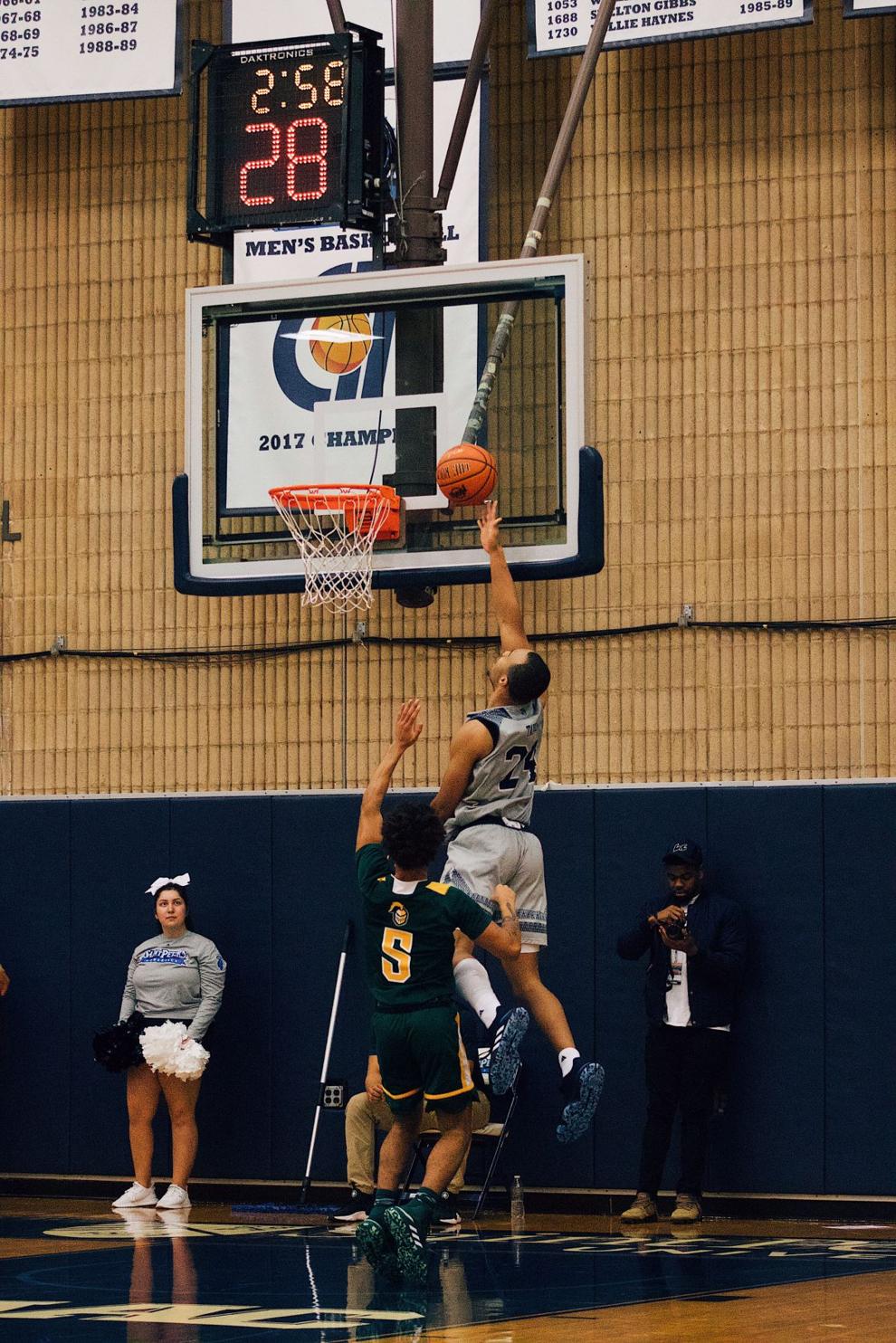 Though three of the four top team scorers were freshmen — Edert, Estrada and Fousseyni — Whalen said that doesn't affect the role of the members from last year's squad — Jones, Ndefo, Taylor, Watson and sophomore center Majur Majak, who recorded 13 blocks last season and was a rotating player Thursday night.
Edert and Estrada agreed the team needs to work on their transition defense and watch "a lot" of film before they face Bryant next Wednesday at the Yanitelli Center. Tip-off against the Bulldogs is 7 p.m.