On Sunday, Jan. 26, the world stood still — or at least, that's what it felt like. 
Kobe Bryant, former Los Angeles Laker legend, and Gianna, his 13-year-old daughter, were among nine people killed in a fatal helicopter crash in California. 
Though the tragedy happened across the country, the pain could be felt all the way at Saint Peter's University where many student-athletes said they couldn't believe the news, but chose to look at it differently.
"Win or lose, the Mamba Mentality never fades."
That's how Wil'lisha Jackson, a sophomore forward on the women's basketball team, is memorializing the five-time NBA champion. 
Kobe became one of the players Jackson idolized as she learned the game, she said. And for Taiah Thornton, a redshirt-junior guard also on the squad, the Lakers were the first team she ever loved.
"Kobe was my favorite NBA player of all-time," Thornton said. "... Life is short and life is precious… Cherish the moments you have with loved ones and be grateful for the opportunity to play one of the greatest sports in the world."
On Jan. 29, Jan. 30 and Jan. 31, Kobe and Gianna were honored at all three SPU men's and women's home basketball games. The men wore Kobe's iconic No. 8 and No. 24 while the women sported Kobe's No. 8 and Gianna's No. 2.
Men's basketball head coach Shaheen Holloway played with the NBA superstar  on the 1996 McDonald's All-American East team. Holloway was also named on Kobe's "Kill List" — a list of kids in his age group when he was 13 who were ranked higher than him — on a recent podcast with NBA retirees Stephen Jackson and Matt Barnes.
Holloway declined to comment. 
Kobe retired in 2016, and ended his career on an exclamation point by scoring 60 in a final victory against the Utah Jazz. Gianna played basketball for the Mamba Sports Academy, where she was coached by her father, and dreamed of playing for power house University of Connecticut.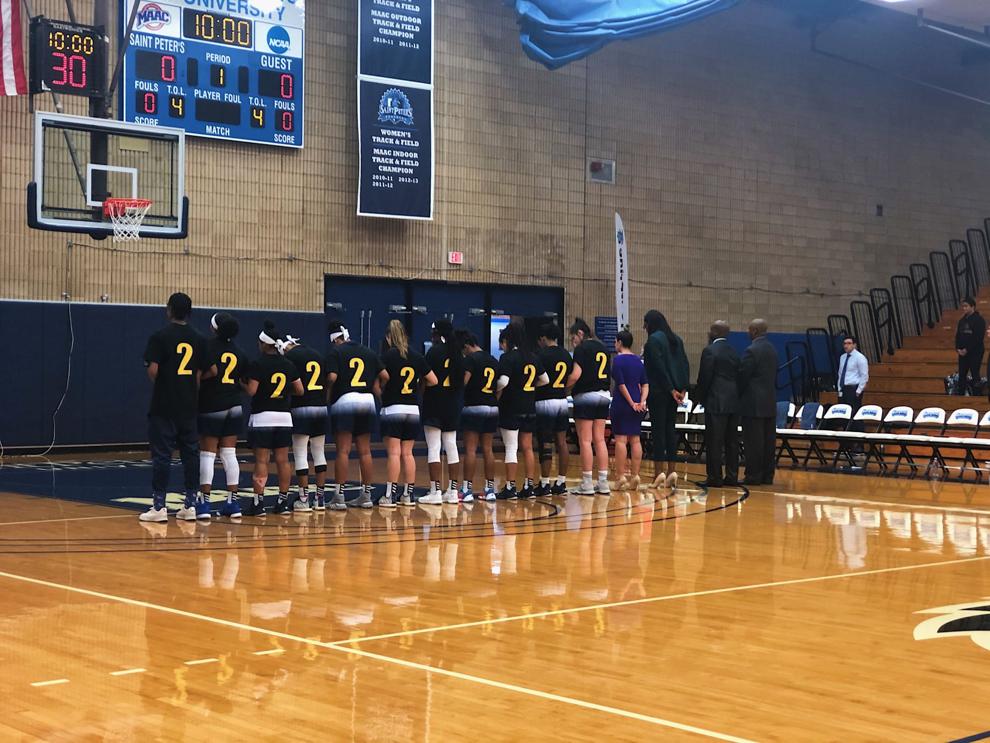 "GiGi was on the rise of being a phenomenal basketball player…," Jackson said. "There are many female athletes, including myself, that are pushing to make women athletics just as appreciated as male athletics. GiGi has become another icon of that."
The men's basketball players were unavailable for comment.
But the untimely death of the Bryants didn't just affect basketball; it was the whole sports world too.
When Patrick Hamilton, a senior middle-distance runner, heard the news, he watched all of the Black Mamba's highlights, laced up his Kobe sneakers and went to the Yanitelli Center to play basketball. 
"I just remember watching him play and realizing he was different," Hamilton said. "(Kobe!) was always what we yelled when playing or just throwing paper balls."
And like many athletes across the globe, Hamilton, Thornton and Jackson said Kobe's #MambaMentality will live on just like his legacy and impact on the sports world.
"It's more than just basketball," Thornton said. "I wanna be able to know that when that buzzer goes off or when it's time to hang up my sneakers that I put forth my best effort to be successful, not only for myself, but for my teammates and my family."
"These next moments won't be taken lightly," Jackson added. "I carry the Mamba Mentality in me because that's what is instilled in me. I dedicate the rest of this season to Kobe, Gigi, Payton, Alyssa and the other victims included in the crash. I'm fighting for my Papa and my family."