Many Saint Peter's students know that Martin Luther King, Jr. spoke at Saint Peter's in 1965— but he's not the only courageous civil rights activist who has stepped foot on our campus.
The year before, Bayard Rustin, a labor organizer, nonviolent activist and LGBT icon addressed Saint Peter's students at the annual Michaelmas Convocation. Rustin was a top advisor for Martin Luther King, Jr. and a key nonviolent strategist of the civil rights movement.
During his emotional speech, Rustin spoke of riots that had taken place in New Jersey and New York the summer before. He explicitly condemned the "less than noble" behavior of police and the violence of a society which intentionally trapped the black community in a cycle of poverty and disenfranchisement. 
Rustin went on to urge solidarity and brotherhood between poor white people and poor black people. He warned that senators who went to great lengths to subjugate black people often hurt poor white people in the process, citing the southern opposition to Medicare as an example.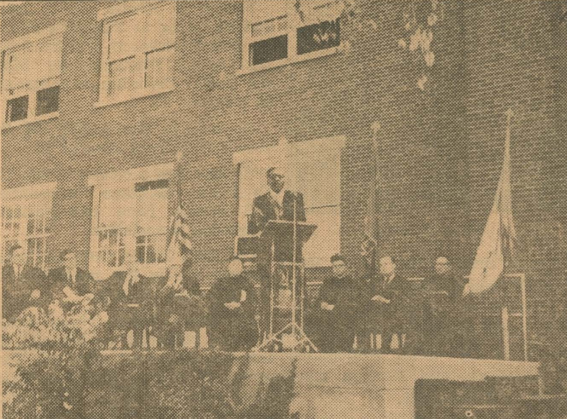 50 years later, the virulent racism and ignorance that has been festering in America's core since its conception continues to supercede people's class interests. Rustin's insights, therefore, are more relevant than ever, especially in the wake of Trump's election. But despite the modern resonance of Rustin's words, his visit to Saint Peter's has been virtually forgotten and our university is far from the only institution to allow his work to fade into obscurity.
In Rustin's case, the traits that made him so extraordinary are also the traits that have gotten him written out of history books.
Even in the 1940s and 50s, he was open about his homosexuality, refusing to deny who he was. 
"It was an absolute necessity for me to declare homosexuality, because if I didn't I was a part of the prejudice," he said. "I was aiding and abetting the prejudice that was a part of the effort to destroy me."
His openness about his identity meant that his role in the civil rights movement was often limited to behind-the-scenes. Though Rustin was one of the key architects of the 1963 March on Washington, his sexuality was often used against him by his opponents— and King feared that his involvement in the movement might prove to be a liability. 
However, Rustin never allowed racism and homophobia to stop him from fighting for what he believed in. He would go on to direct a boycott against racial disparities in New York City public schools. Later on, in wake of the AIDS crisis of the 1980s, Rustin publicly became involved in the battle for gay rights, calling it "the central struggle of our time, the central struggle for democracy and the central struggle for human rights." 
Rustin died in 1987 before he was ever truly honored for his work. In 2013, he was posthumously awarded the Presidential Medal of Freedom by President Barack Obama, and this February, he was pardoned by the governor of California for his conviction under outdated laws criminalizing homosexuality. Slowly but surely, Rustin is being written back into our nation's history and it is time we write him back into the history of Saint Peter's as well.
"We need in every community a group of angelic troublemakers," Rustin once said.        
This Black History Month, let's remember not just Dr. King but also the "angelic troublemakers"  like Bayard Rustin— visionaries who were kept in the shadows for subverting popular narratives and daring to be themselves.