On March 16, Saint Peter's University President Eugene Cornaccia announced that all classes will transition to online learning for the remaining spring semester.
The announcement came in response to the COVID-19 pandemic, and the wave of universities across the country closing their doors as a result.
Students were jarred by the sudden transition and were shocked to find that all of a sudden, they will not be able to interact with their friends or professors for a very long time.
This shock was most especially felt by SPU's professors, as they now had to quickly realign themselves and acclimate to the world of online learning, a task that some professors at the university found to be particularly troublesome and daunting.
The transition wasn't especially easy for professors like Alain Sanders, who has been a long-time critic of online learning, as many of his students are probably already well aware.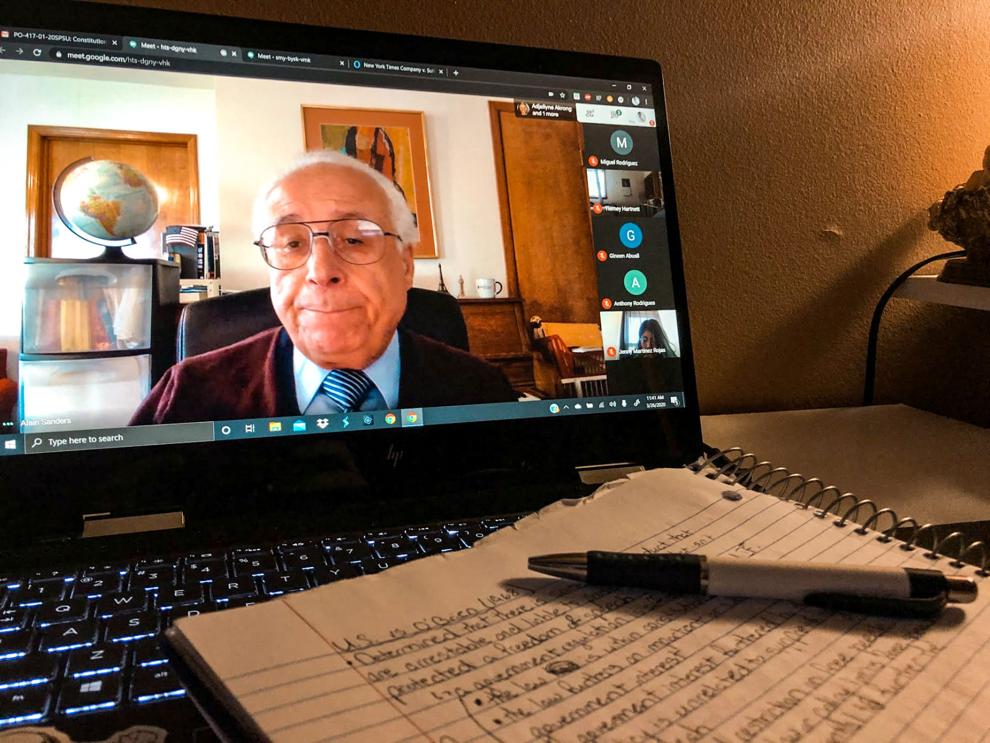 "I am not a proponent of online education, virtual classes or any internet-conducted classes," Sanders said. "I believe that education is a personal experience that requires the physical presence in a real classroom of both students and professors."
Sanders at first encountered some technical issues pertaining to his online courses, some of which had his students completely muted. Since then he has adjusted to the change, but still firmly believes in the importance of in-person classes.
"Having said all of this, we need to realize that an emergency is an emergency requiring emergency solutions. So I am glad that we are able to use high tech as an emergency backstop to continue our work, just as I am glad that we have flashlights to continue living when the electricity goes out. But I would never want to live regularly by the dim glow of a flashlight--or regularly educate students through the 'socially distant' glow of the Internet."
Ernabel Demillo, the Chair of the Communications Department at SPU, had much of the same critiques of online learning. Although she had on the surface transitioned to online learning smoothly, she nevertheless stressed the extraordinary difficulty of the transition.
"So my first question to my students in class was, do you have the technology at home? … And I soon learned that not all our students had all those technologies available to them. So I just had to make sure that however I chose to repurpose my syllabus could also help those students too," said Demillo.
She described the difficulty of having to convert a class to online, a task that SPU gave faculty a week to do, in which she said usually takes a semester to a year to accomplish. 
Demillo described herself as a professor that incorporates a lot of technology in her class, which didn't make her transition to online that difficult. But she still recognized that many professors at the university do not have such experience which makes it much harder for them.
What Demillo did find difficult, however, was having to get used to the lack of real in-person interaction.
"What was difficult for me was that I had a lot of  in-class interaction and in-class lectures that I had prepared. And that was difficult to have to move all of that online and trying to figure out like best practices… . I'm still trying to figure out  how best to have class discussions . Because those are still very awkward."
Although Demillo said she does enjoy still being able to see her students through the Internet, she feels that it is "still not the same."
Demillo could only note one benefit of online learning, saying, "I think the only thing that's easy about this is that I don't have to commute."
Sanders and Demillo have used Google Meet and Zoom for their classes, due to their feature of being able to broadcast a live feed of both audio and visuals of students and professors, even possessing the ability to screen share so as to present powerpoints or other prepared material.
Both professors also expressed support for the university's decision to give students an extended period for the pass/fail option for their courses, saying that it is good that in this emergency that the university is willing to be lenient on students in consideration of their anxiety surrounding this crisis.