During the past summer, you might have seen colorful spotted lanternflies drifting and hopping across Hudson County with their bright red wings. But even if you're a lover of nature and bugs, we are sad to say that you must kill as many of them as possible.
While the flies do not bite or directly harm humans, this invasive species has been a disruption and a nuisance to gardeners, local agriculture and the local natural environment. According to the New Jersey Department of Agriculture (NJDA), they can, in numbers, be a significant nuisance, affecting the quality of life and enjoyment of the outdoors of people in heavily infested areas. The flies are known to enjoy feasting on over 70 different plant species, especially grapevines and deciduous shrubs.
Originally native to China, Taiwan, India and Vietnam, the spotted lanternfly was accidentally introduced to the United States in Berks County, Pennsylvania in 2014. Because the species lacks natural predators in the U.S., the flies grew rapidly in hundreds of thousands of numbers. However, the NJDA reports there are cases of predaceous insects, spiders, parasitoids and fungi occasionally attacking them.
Since 2018, the spotted lanternfly has spread across neighboring states including New Jersey and New York. As of August 31, 2021, 13 New Jersey counties have been under quarantine by the NJDA due to the spread: Burlington, Camden, Essex, Gloucester, Hunterdon, Mercer, Middlesex, Monmouth, Moris, Salem, Somerset, Union, Warren.
Dawn Giambalvo, the president of Canco Park Conservancy in Jersey City, says the flies feeding on shrubs can especially be harmful to the natural environment.
"Deciduous shrubs absorb more rain water, so they are helpful during storms. They also have deeper roots and hold off soil erosion," she said. "They even provide shelter for birds and native insects."
The flies also especially favor ailanthus trees (also known as the tree of heaven), an invasive plant species native to East and Southeast Asia.
The ailanthus trees were originally introduced from China to the United States in the 1700s and reproduced in large numbers and sizes due to lacking natural insects as hosts to feed on — until recently.
According to Penn State Extension, it is recommended that all female ailanthus trees must be removed due to producing seeds and contributing to the spread of the invasive tree.
"Both ailanthus trees and flies are meant to feed off each other," Giambalvo said. "The flies enjoy sucking the sap from those trees and then expel honeydew like feces."
The NJDA also stated on their website that the honeydew can turn into mold, which can cover the plant, forest understories, patio furniture and cars.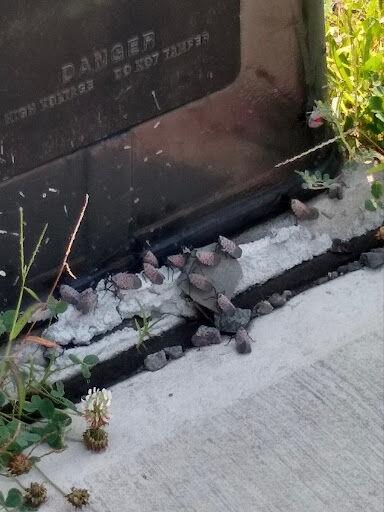 Lanternflies have even been spotted around Saint Peter's University.
"I literally saw one trying to fly through the window of the fourth floor of the [MacMahon] Student Center," said Eduardo Pinto, a junior majoring in criminal justice. "It was giving [me] a weird, creepy stare."
Some students have been able to kill lanternflies. Joey Caruso, a senior majoring in communication and media was able to stomp one locally.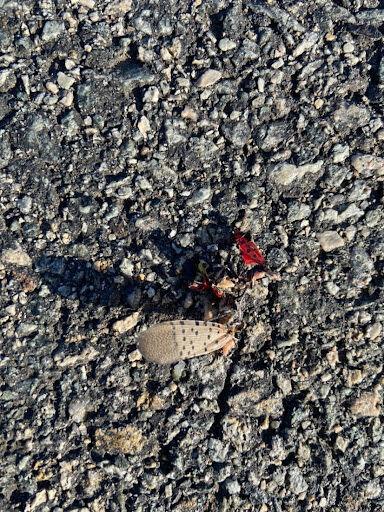 In July 2021, a large swarm was even discovered in Riverview Park in The Heights neighborhood.
"There was a fireworks event for the 4th of July, and [lanternflies] were everywhere: plants, sidewalks, fences," Giambalvo said. "We had volunteers helping to get rid of as many of them as they could."
While stomping and killing one lanternfly can be quite easy, eliminating large numbers can be difficult.
The Penn State Extension highly discourages home remedies to kill lanternflies due to potential harm coming to humans, pets and plants and states that some uses can violate federal law. However, methods like tree banding and placing scraped contents in a large bag of hand sanitizer alcohol can be used.
Insecticides are also found to be effective, but they must be used carefully. The NJDA recommends trying the least toxic options first. A Safety Data Sheet (SDS) on the levels of insecticide toxicity to mammals, birds, fish and bees can be found here.
Giambalvo is concerned that, because of how fast the species has grown, there will be many more flies in the future. While the sightings of spotted lanternflies may decrease as temperatures become cooler, they still mate and lay eggs through the fall, especially in October. The eggs remain throughout the winter and then hatch young nymphs in late April and early May. They can grow into fully grown adults by July.
Lanternfly eggs are laid on trees and have a gray mud-like covering that gradually takes on a dry cracked appearance over time. Because of its color, they can blend it with the tree bark easily and can often be missed. It is highly recommended to scrape off the eggs and kill them with alcohol.
Gimbalvo also pointed out that uncontrolled land is at risk of being overrun with lanternflies and urges the local Jersey City government to take more action in controlling the infestation.
"There's little green space in [Jersey City] that we need to take care of, even if it's neglected land," she said. "We can't have uncontrolled land, we need to be more proactive."
If a spotted lanternfly has been sighted in your neighborhood, the New Jersey Department of Agriculture encourages you to report the sighting. If the sighting was in a known quarantine county, you do not need to fill out the survey.