Amidst a pandemic, service is still being provided by the Saint Peter's community.
On March 31, Campus Ministry's member, Erich Sekel, SPU Recreation and Wellness Coordinator, Edward Daniel and longtime community volunteer, Michael Parrilla, gathered to organize 140 bags of food from the Saint Peter's Food Pantry to donate to Hudson County Housing Department.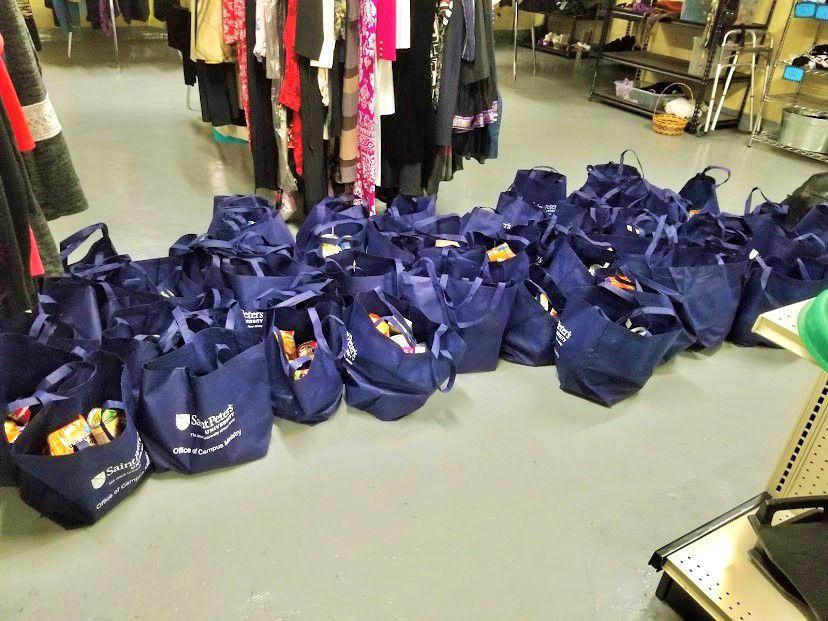 The organization contacted Campus Ministry after housing Hudson County's homeless members in hotels.These members included people with pre-existing health conditions, the elderly or people who had tested positive for COVID-19.
Before the pandemic forced the Saint Peter's Food Pantry to shut down, they received food donations from Saint Peter's Prep, Newport Centre Mall and Hudson Catholic Regional High School. 
The three gathered to pack bags each weighing between 16 to 20 lbs and delivered them to the homeless, relieving the organization and people. 
For Patricia Barata, the bag of food was a blessing and was grateful to receive. She was previously staying at the Perc Shelter in Union City, but because of her age, she was moved to a Travelodge Hotel.
"I'm on social security retirement and I don't get my money until the third," said Barata in a voicemail left for Sekel. "I had to go out to find myself a meal today so thank you very much [for the gift]. May the Lord be with you."
Although closed, the food pantry continues to provide food on an emergency basis. Since, they have been able to help feed 15 families.