Information and images were collected from Kevin Callahan, 69', an associate Criminal Justice professor; Anna Cicirelli, 79', an associate dean and director of the Ed.D High Education program; Joseph Mclaughlin, 79', a Sociology and Urban Studies professor, and Saint Peter's University archives in order to write this article.
Saint Peter's University has officially a hundred and fifty years worth of history. The University, which started as a liberal arts college for men in 1872, slowly transformed into a diverse community of learners offering undergraduate, graduate and professional programs.
Did you know that the first women in Saint Peter's University were admitted in 1966? Or that the Frank J. Guarini School of Business was the "famous" cafeteria in 1970?
As Saint Peter's continues its commemoration for its sesquicentennial year, take a look at these historical pictures and facts about the university.
1. The transition from Saint Peter's College to Saint Peter's University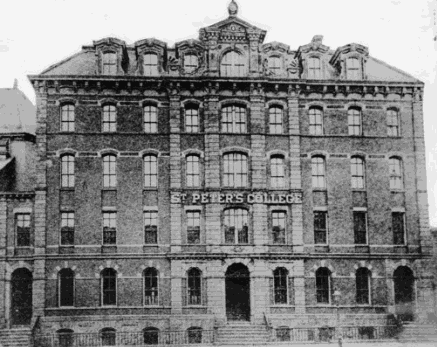 Saint Peter's College was originally founded as a Jesuit College for liberal arts students. The first class took place on September 2, 1878, with seventy-one students. As more students arrived, the university began its expansion, and by 1956, the University had moved to its current location on Kennedy Boulevard in Jersey City with two new buildings: McDermott and Dinneen Hall. After becoming fully coeducational, Saint Peter's College had a huge increase in enrollment during the 1990s and added residence halls to accommodate the student population.
After many years, Saint Peter's College became Saint Peter's University in 2012.
2. Women Enrollment in Saint Peter's University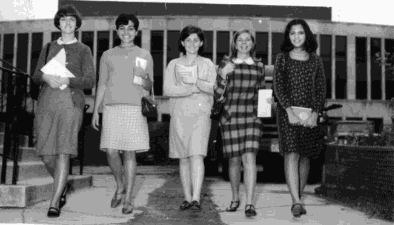 One of the most controversial events took place at the University in 1966 when Saint Peter's officially admitted women to the school. During this time, people questioned the "why's" to the mechanics in institutions, and some of the male students did not take the new changes in a good way. During protests against the school's decision, students wore buttons proclaiming, "This is a man's school." But eventually, Saint Peter's students adjusted to the changes and the protests quieted down in a few weeks.
3. Seniors and Cambridge Gowns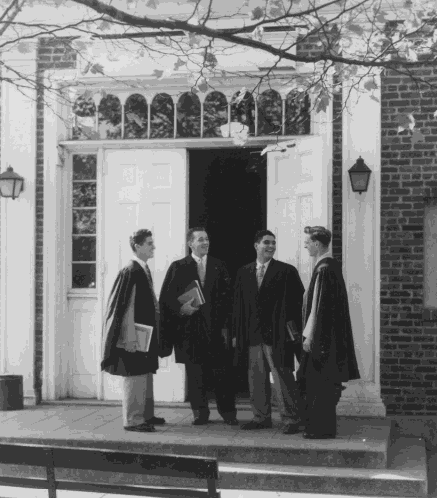 World War I impacted Saint Peter's College, the school had to close its doors between 1918 and 1930. After its reopening in the 1930s, the "Cambridge Gowns" became a tradition for seniors. The gowns were introduced by Fr. Gannon after the reopening of the university.
4. Saint Peter's University and the Military
During the late 1950s, Saint Peter's College bought what we know now as Rankin Hall, and turned it into their ROTC building. At this building, students were taught how to fire and put together weapons—they even had a shooting range. Military service was mandatory for freshman and sophomore male students with some medical and religious exceptions. If students choose to continue serving in their junior and senior years, the military offered tuition money after signing a contract for four or five years of service after graduation.
5. Student Life Progressively Changing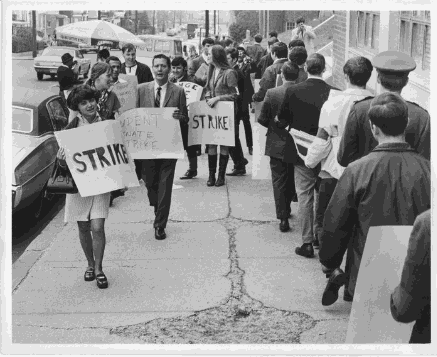 During the 1960s, the school had predominantly white males before admitting females in 1966. Saint Peter's University was not the diverse community it is now, and students were peaceful revolutionaries questioning the world.
"It was a turbulent time" is the way Kevin Callahan, a Saint Peter's College alum, described his time in the school during the late 60s.
Saint Peter's University did not have an active student life until the late 1970s. But even as a commuter school, there were some areas to hang out in between the classes.
There were two cafeterias and one outside area for students: The Pavonia Room, which was located in the basement of Dinneen Hall, and Hudson Room, located where The School of Business is now.
"[The Quad] was a popular spot to hang out when the weather permitted," said Joseph Mclaughlin, a Saint Peter's College graduate.
"The popular cafeteria" as Mclaughlin describes it, was where most of the students spent his time during free time. "The loud cafeteria" is another term that Anna Cicirelli, a Saint Peters College alum, found to describe this place.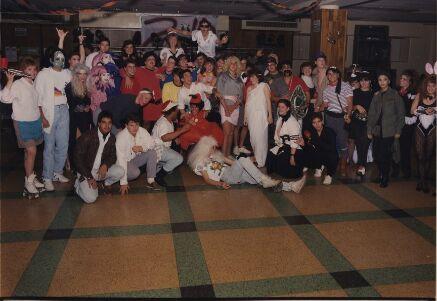 Saint Peter's University continues to pursue its mission of educating students to excel intellectually, lead ethically, serve compassionately and promote justice. But today— located in the second most diverse city in America, the school spreads the Jesuit and Catholic identity to a much bigger and diverse community.