In the office of WeiDong Zhu's, Ph.D, Dean of the College of Arts and Sciences, hangs a poster he constructed with a picture of each faculty member in the 15 departments he oversees. What started as a method to familiarize himself with the faces of each faculty member took on new meaning when he observed a problem: there was a lack of diversity among the faculty.
Before becoming dean, Zhu was the vice president of the faculty senate where he developed a different view of how the university operated beyond the department level. Assuming his role in 2016, Dean Zhu marked a "first" for people of color.
"I was the first colored officer in faculty senate in the history of the university, which I felt really proud," said Zhu.
Although marking a milestone for people of color at Saint Peter's, some students and faculty members feel that there is an underrepresentation of minority faculty because of the unequal balance of diversity among faculty compared to the student population.
According to Saint Peter's University Office of Institutional Research, as of 2019-2020 academic year there are 113 full-time faculty members -- 78.7 percent are white, 5.3 percent are black, 7.1 percent are Asian/Pacific Islander and 8 percent are hispanic.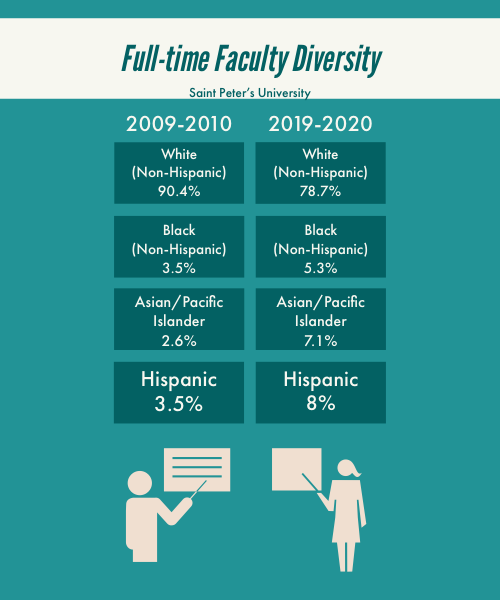 From the 2009-2010 academic year to 2019-2020, there has been an 11.7 percent increase in diversity among full-time faculty, but this number doesn't compare to the diversity percentage from the student body, which is triple the amount.
According to the university's website there are 22 percent black, 42 percent hispanic, 8 percent Asian and 0.4 percent American Indian/Alaskan undergraduate students averaging 73.4 percent diversity among students.
For years Marilú Marcillo, former director of the Office of Diversity, Equity and Inclusion and associate professor in the School of Business, has worked in trying to bring diversity into Saint Peter's University. Growing up in East Harlem in a time where a mass number of female Latinas were becoming educators influencing the type of teachers and role models Marcillo had, she remembers feeling fortunate to have someone she could aspire to be.
Seeing someone like herself be well educated showed Marcillo, a first-generation student, that she could do anything. That idea is why she believes diversity is important among faculty.
"For children who are first generation students like myself, if you don't have your parents to look to as role models then you have to look outside of your family, outside of your parents," said Marcillo whose parents migrated from Ecuador and only accomplished a second/third grade education."If you aren't seeing that [diversity] in your everyday experience in your classroom then how are you being influenced?"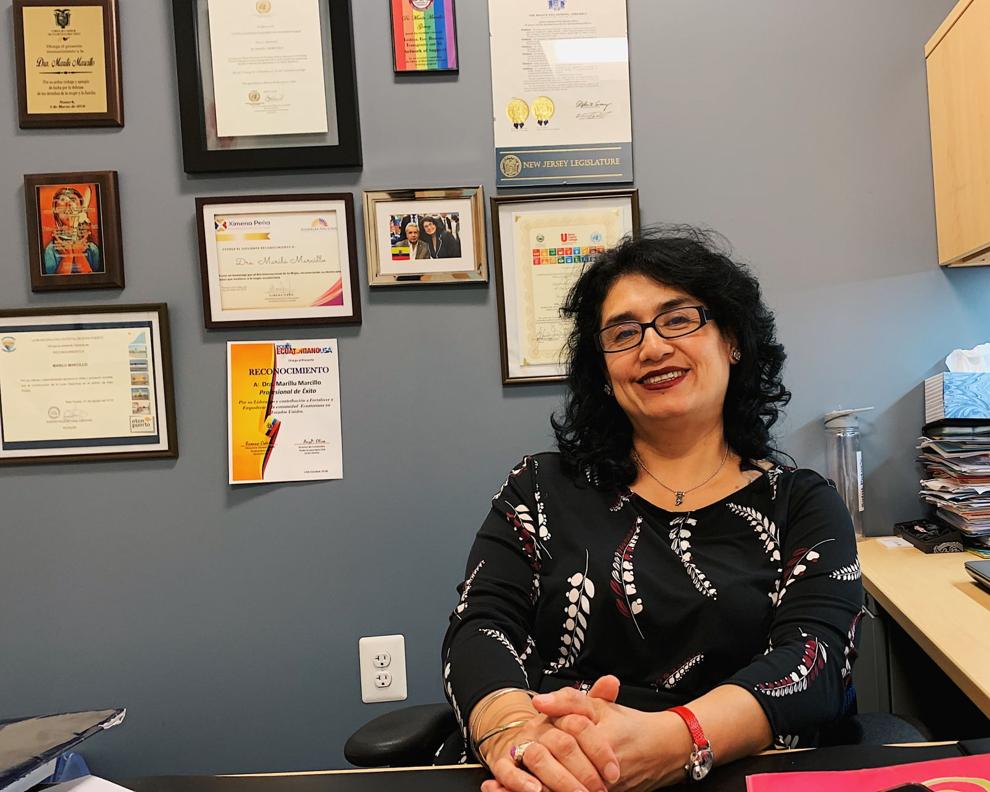 The inspirational feeling that Marcillo felt is the same feeling senior Annel Reich experienced when she had one Latina professor in a sea full of white male professors. After attending SPU for years, she noticed a lack of diversity among faculty, but remembers the encouragement she felt when she saw, someone like her, teaching in front of the class.
"She was so proud [Dr. Jennifer Ayala] and vocal for Latinas," said Reich, who is an English major and education minor. "It's encouraging for a first generation Latina student like myself. I think if they have more African-American or Latinx professors they could give students, like myself, a better experience at Saint Peter's."
The connection and comfort Reich established with Ayala, is what Chair of Sociology, Joseph McLaughlin, wants to accomplish for his department and essentially for the university.
When he first started at Saint Peter's 34 years ago, he was asked to be moderator for the Indian Club because, at the time, there were no Asian or Indian faculty members. As he interacted with the students, he realized how important it was to experience other cultures.
"Anytime you open yourself to the different culture and different perspective it makes you a stronger person, it makes you a better student," said McLaughlin.
This mentality has lead him to diversify his hires and to become a part of the President's Task Force on Diversity, Equity and Inclusion, a program that will provide leadership, education and coordination to help with the university's "commitment to the principles of diversity, equity and inclusion."
McLaughlin states that his last two hires have been an African-American woman and a gay Latino male and overall, this year, there have been two Asian and five African-American adjunct hires.
Although the university has improved its numbers when it comes to diversity among faculty, the school still has a long way to go if they want to have more representation. But the departments and the President's Task Force are still looking for a diverse pool of candidates to help the university be more inclusive, but still fits the university's mission.
"You gotta hire for the best fit and the best fit right now is someone who will represent the students and someone who will represent our mission," said McLaughlin. "And I think now all the departments are starting to understand that."