The COVID-19 pandemic has taken a toll on the economy. Many small businesses have seen drops in revenue and some have closed down altogether. With the rise in cases, it was inevitable that people would stay indoors and spend less of their money.
However, some students saw an opportunity to capitalize on the online marketplace during quarantine.
Some Saint Peter's students have started their own businesses to showcase their creativity and skill. These entrepreneurs have put time and effort into deliveries, creating content for social media and purchasing materials for their products and packaging.
Cielo Beadz - Karen Canelas, Class of '21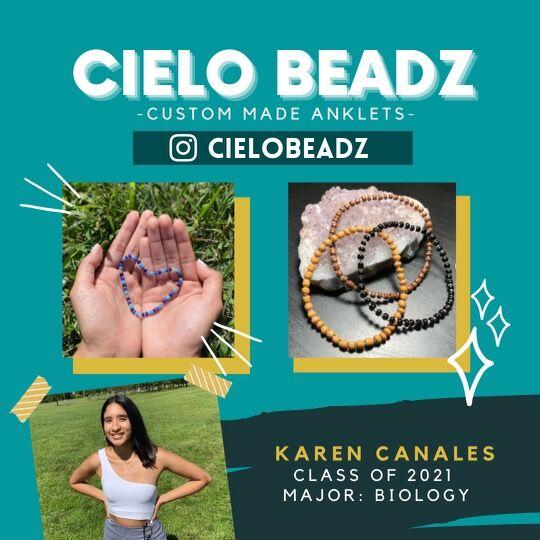 Quarantine inspired a lot of people to rekindle with their forgotten hobbies. Karen Canales, a senior biology major, was cleaning the house with her mother in home-isolation when she found old cases of beads she'd had since her childhood.
"I was about to throw them all out, but instead, I started playing around with the idea of making anklets," she said.
After a month of planning and creating unique anklet sequences, Canales officially launched her anklet business, CieloBeadz, in September of 2020.
"I was unprepared to do this as it was something completely out of my comfort zone," she said.
Her most popular item is the "Mal De Ojo" consisting of a blue and white bead pattern meant to ward off evil.
PM Oddities - Vernice Hipolito, Class of '21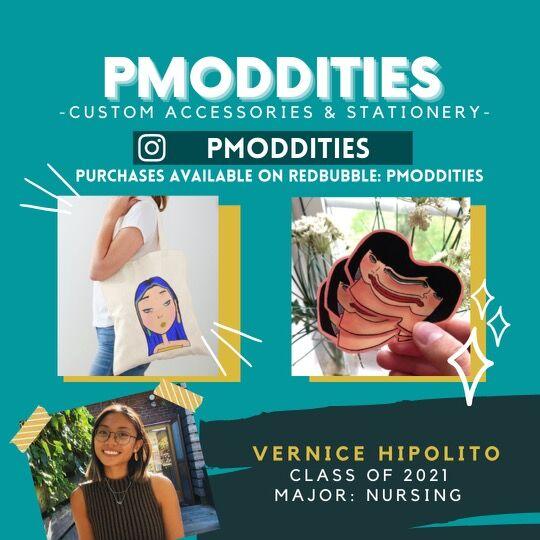 Finding balance between a rigorous school workload and free time is a major struggle for college students. Vernice Hipolito, a senior nursing student, found time to bring her passion of art to life.
Hipolito started her art business, PM Oddities, in October of 2019 after finding herself doodling all over her notebooks and planners.
"My junior year, I became more confident in myself and my art, and I wanted to try something different," she said.
At first, Hipolito started selling stickers locally, but balancing a business with a heavy nursing workload proved unsustainable. Though she has stopped physically making stickers, her designs are uploaded onto Redbubble, a website that turns her designs into tote bags, notebooks, socks and more.
Her most popular item is her "Pink Lemonade" tote bag.
StarGrl Studios - Loretta Graceffo, Class of '21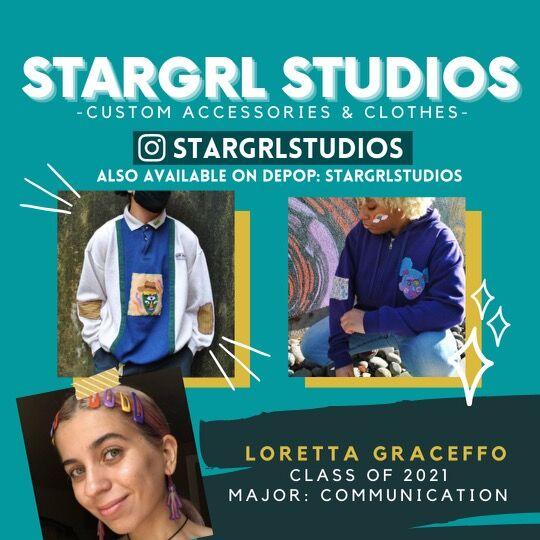 Consumers throughout the world purchase from fast-fashion companies like Fashion Nova, Forever 21 and H&M due to the brands' low price points. However, these companies use unethical methods like slave labor to produce mass amounts of accessories and clothes.
Loretta Graceffo, a senior Communication major and current news editor of the newspaper, uses her love of art and upcycled fashion to create hand-painted tote bags, resins, jewelry and embroidery that deviate away from mainstream fashion and beauty standards.
Graceffo started her business during quarantine as a way to share her art and to relieve symptoms of her ADD through keeping herself busy.
"It's been difficult to create work that is unique, made with love and good for the earth while also making a little extra money that I can put towards moving into an apartment one day," she said.
She aims for her clothing and accessories to be accessible and affordable. However, competing with big fashion corporations for advertising poses a challenge for her business due to the algorithms on social media platforms.
Graceffo also sells her products on Depop, but the online clothing reselling platform takes 10% of her profit.
"Even when you are working for yourself, you're still subject to the capitalist system where a huge corporation makes a profit off of your labor," she said.
Mainstream fashion and toxic beauty standards do not stop her from releasing products that embody creativity and sustainability.
"I really want to use StarGrl Studios to promote DIY ethics and self-expression, even if it's just on a small scale," she said.
Her most popular items are her personalized tote bags.
MMTraining - Mark Mineses, Class of '21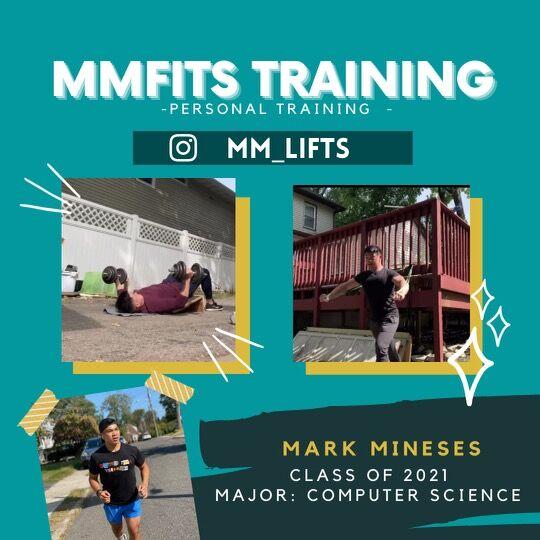 The limitations on indoor gyms and sports arenas due to state COVID-19 guidelines have made it difficult for people to achieve their fitness goals.
With his love for exercise and helping others, Mark Mineses, a senior computer science major, has helped people stay on-track with their fitness goals.
Mineses started the foundation of his personal training business, MM Training, in late 2018.
Originally, Mineses was physically helping clients at the Saint Peter's University Recreational Life Center (RLC) and Game Room Gym with tips on maintaining a healthy lifestyle and powerlifting forms. He was also actively searching for new clients outside of the Saint Peter's University gyms.
Due to lockdown restrictions, Mineses has been unable to find new clients. However, the pandemic did not stop him from helping others with their fitness goals.
"Fitness goes beyond the gym — showing how we all have power and passion beyond measure," said Mineses. "I'm here to help you unlock it and let it drive you in other aspects of your life."
Mineses is currently taking on clients for free and offering virtual advice through his Instagram and Facebook accounts. During the holiday season, he created a four-week fitness challenge.
In the future, Mineses hopes to open his coaching roster and create content for social media in hopes to get others involved in fitness.
"The ultimate goal is to build a safe community united by the people with a simple desire to become better," said Mineses.
CeePins - Chris Espinal, Class of '21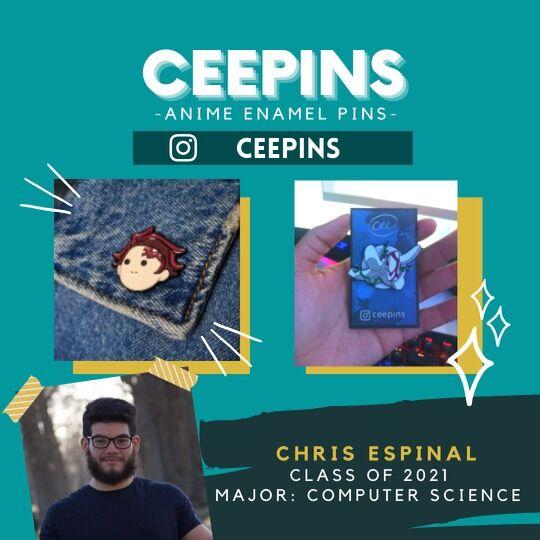 Anime has become increasingly popular within the Saint Peter's Community. Some students even make fanart and merchandise to showcase their love for their favorite shows.
Chris Espinal, a senior computer science major, took a different approach with fanart by creating his own enamel pins of characters from his favorite anime shows.
"I wanted to make pins of my favorite shows at an affordable price," said Espinal.
Espinal is a one-man team and creates his own pins on his own time and expense.
In his spare time, he also livestreams his video games on Twitch while sharing his love for anime.
His most popular item is the Tanjiro pin — a character from the Demon Slayer series.
The Ninth Collective - Samantha Brown, Class of '21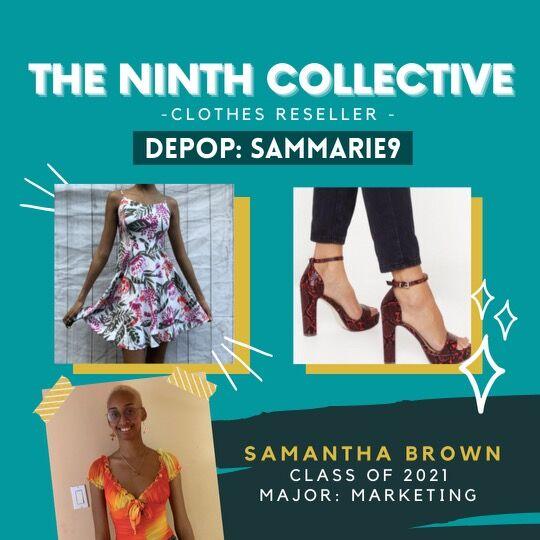 When you clean your room, sometimes you find clothes you either have bought but never worn or that have been sitting unused in your closet for a long time.
Online reselling platforms such as Depop, ThredUp, and Poshmark have become popular places to earn extra money by selling new or recycled clothes, shoes and accessories.
Samantha Brown, a senior marketing major, started her fashion reselling business on Depop the summer after her freshman year of college.
"I love clothing, and I've always wanted to run my own business relating to my interests," she said.
Brown models her own clothing for her Depop and for Fashion and Modelling and Entertainment also known as F.A.M.E. She also puts her own outfit ideas together to share on her Instagram.
"I'm going to keep putting up new pieces until I can start getting a steady source of income from this," she said.
Her most popular items sold on her Depop are tops and dresses.
Monkey Boof - Gabe Guerrero, Class of '21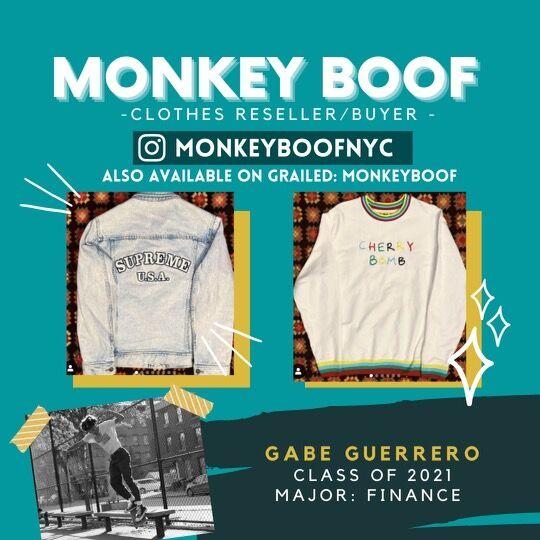 High-end pay-for-the-name fashion brands like Supreme have become popular within the fashion industry. Many consumers wait in line at stores in rain or shine to get their hands on exclusive items.
Gabe Guerrero, a senior finance major, got his hands on some Supreme clothing when a friend who worked at one of the brand's stores sold him clothes for cheap. Soon, Guerrero found himself making profit when he resold his Supreme clothing.
"At first, I didn't have much money, so when I bought clothes, I had to wait until I sold some to be able to buy more from reinvesting profits," said Guerrero.
Reselling his clothes on social media platforms wasn't easy, as he had to compete with other resellers who offered the same brands.
"I had to be unique from other sellers to stand out," he said. "I started selling to the skater niche and selling rarer clothes, so it wasn't just stuff every other seller has."
His most popular items are Supreme shirts.