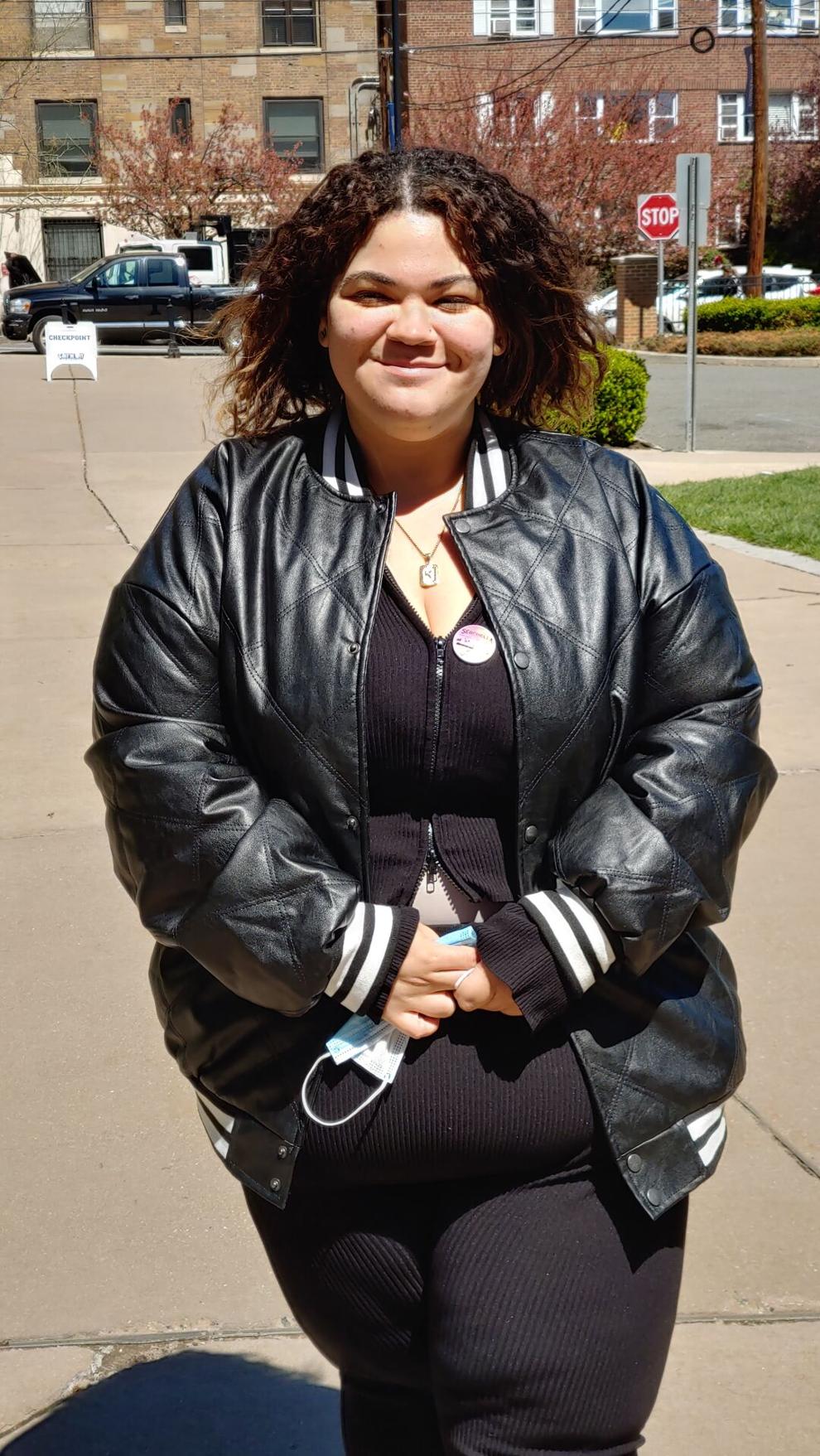 If you attended any of the watch parties for the Peacocks' March Madness games, or almost any event run by the Student Entertainment Board (SEB) in the last couple of years, you've seen her handiwork. 
Meet senior Kiara Suero, 23, President of SEB, President of the Class of '22 and Resident Assistant majoring in communication and media culture. While at Saint Peter's, she has also been both an orientation leader and coordinator and has worked in the campus ministry's Campus Kitchen and in the Student Activities office. 
"I've done a lot," she says, reflecting. "I've been everywhere."
Going by "Ki," she can often be found on the fifth floor of the Mac Mahon Student Center, where many of the organizations she's involved in have their offices. She thrives working to make her fellow students' university experience a positive one, but she wasn't always so active and involved at SPU. 
Ki is a first-generation college student in her Dominican and Puerto Rican family. She's certainly going her own way: with a mother who until recently was finished with school after getting a GED and a father who found success in plumbing after attending trade school, Ki is one of seven siblings (one brother and six sisters, including herself), the adults among whom having found work and "established" themselves without going to college. 
When she got to SPU, Ki had some difficulty adjusting to her new life.
"I think when you're in high school, you think you're on top of the world; you think you've peaked or whatever," she says. "And I definitely was feeling that when I transitioned … I was never going to anything on campus. It was always my room and class."
During that first semester, Ki struggled socially, both in establishing new friendships and finding a way to get involved in campus life. After twisting her ankle, she was forced to miss her class' orientation weekend. She felt intimidated at the prospect of joining a club, and although she did apply to become an SGA senator and then an RA, she was feeling discouraged after being denied for both.
"I think I just wasn't ready," she says when asked why she believes she was turned down. "I don't think I could have handled it."
It was in the second semester of her freshman year that Ki started to find a place for herself. Attending a SEB-run event, she met the organization's president who invited her to their next meeting. 
"I thought I was going to a general body meeting at the time, but no, it was fully eboard," she says. "And [the president] was just like, 'These are the positions we need. What do you guys want to do?'" 
At first, she felt an urge to resist being pulled onboard. But before long, Ki was making flyers and social media posts for SEB. 
Meanwhile, though, her grades needed improving. 
"My second semester of freshman year was really hectic because I wasn't always a good student," she says. "At the time, I didn't really have enough energy."
However, Ki soon realized that there is a minimum GPA requirement to fill an eboard position in a co-curricular organization.
"I realized I can't have SEB without having academics," she says. "So I think that's what actually motivated me to actually get my academics together and find, like, more of a purpose in school." 
In the summer before her sophomore year, she had something of a crisis. Only a few weeks from move-in, Ki learned that there was a problem with her financial aid, and if it were not resolved, she would not be able to return in the fall.
"I remember looking at my mom, and I was like, 'I don't want to go back,'" she says. 
With no family expectation for her to go through college, her mother left the choice to Ki. Then her financial advisor called her, and over the phone, they were able to find a solution.
"She did everything over the computer, and she was like, 'you're not dropping out,'" she says. "I think that was a pivotal moment where I was just like, 'Yeah, I'm meant to come back."
During her sophomore year, Ki officially became SEB's publicity coordinator. She also reapplied to join SGA, and became its treasurer. 
"Mind you, I suck at math," she says, laughing. "But I was just like, 'you know what? I really want to be a part of SGA because I really want to advocate for my class.'"
Ki had been involved in student government in high school, and she served as her senior class president. When the university went remote due to the pandemic in the spring of 2020, she ran for President of the Class of 2022 for her junior year and won.
SPU was remote for the entirety of Ki's junior year, but she did her best to keep her classmates engaged as a community while learning from home.
"I still tried to treat it like a normal year," she says. "We did a few game nights that were pretty good. We did a paint-and-sip — that was really, really good."
During her junior year, Ki also became president of SEB, and successfully reapplied to be an RA which has since covered her cost of living on campus. 
"Being an RA is a whole different experience," she says. "Like, it's literally completely different from being any kind of president, and I think for so long I took not getting RA so hard because I was like, 'that's the epitome of being involved on campus.'"
Ki says that being an RA requires selflessness. Once, returning to her dorm after a long day of meetings, she greeted one of her residents and noticed something off in his demeanor. She asked if the resident was OK, and he initially brushed her off, saying that he was.
Having come to know her residents well, Ki sensed that something was indeed wrong, and decided to press and make sure. 
"And when I asked him that, 'Are you really sure?', he said 'no,'" she says. "And so we were in my apartment until like 2 a.m. just talking." 
The common theme in all of Ki's pursuits on campus, she says, is compassion. 
"What my end goal continues to be is caring for students," she says. "When I put on events, I literally want everyone to enjoy it as much as possible, so I'll be running around all over the place, making sure everybody's doing what they can or [checking] if they need help and things of that nature."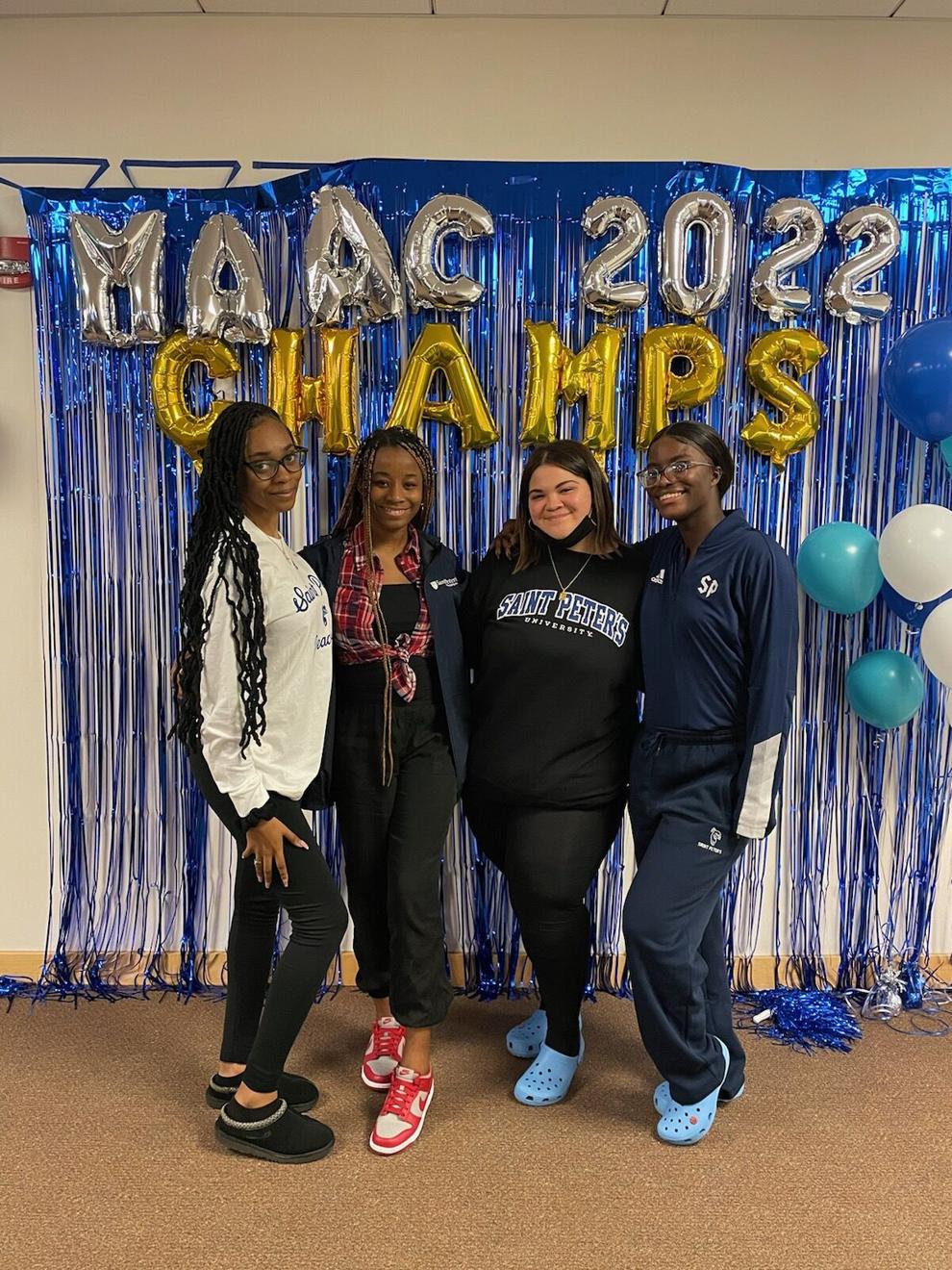 Ki's event planning skills were put to the test when the SPU men's basketball team made it into March Madness. For the first round against the University of Kentucky, Ki worked within a large team to plan a campus watch-party. But when the Peacocks unexpectedly won, a second (and larger) watch party needed to be planned as soon as possible for the game against Murray State.
"Literally right after we won at the first watch party, Jan (Reimer) looks at me and Maia, and she's just like, 'So what are we doing for the next one?'," Ki says. "And then Maia and I clocked into work at like 10:30 on Friday, and we didn't clock out til like eight o'clock at night."
Ki says that the team planning the second watch party was just herself, Maia (another Student Activities work study student), Jan Reimer (Director for Leadership & Engagement in the Center for Leadership, Engagement, & Orientation) and one other full-time Student Activities Staff Member. They had to get t-shirts designed, printed and shipped overnight to be given out the next day. Though food catering was initially a concern, local vendors offering to donate wings, pizzas, popcorn and cotton candy for the event in a show of Jersey City pride resolved the issue.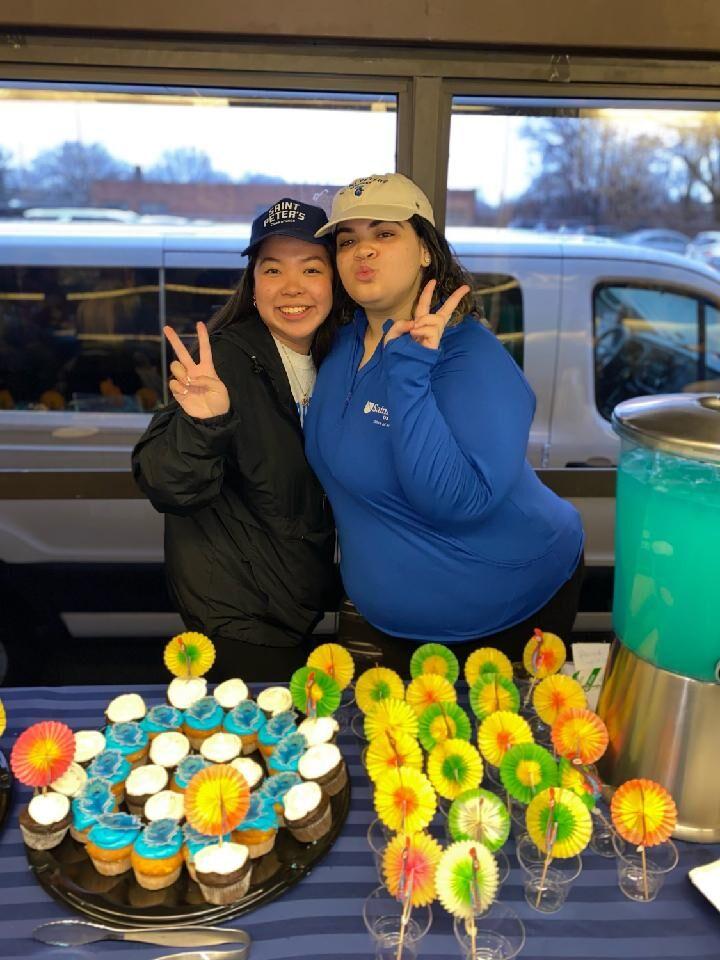 "[Ki and Maia] really kind of took the initiative and got out there and just started asking questions and making things happen and working with the vendors and really, really taking charge of it in really positive ways," says Reimer. "And this is something that I really appreciate [about] her too is ultimately the focus of 'How can we make this a great experience for all students?'"
"So, it's been insane," Ki says. "It was crazy, but it was so fun. I was so happy so many people came, and so many people were just like, 'We had so much fun.'" 
Reimer says that one of Ki's strengths as a leader is her commitment to mentoring her fellow students.
"She always will make sure that she shows the other students what she's doing," Reimer says. "And she asks for their opinion; that's a big deal because then what happens is they're more involved, they're more invested, but also if she can't come to an event because she is, you know, she's got other things going on … she makes sure that they know what they're doing and [that] they feel comfortable doing it."
Now, as her graduation approaches, Ki says that she is putting 110 percent into her last semester at SPU, particularly toward planning events for Senior Week in May. She is also looking further forward, hoping to get into a masters program for student affairs in higher education at Louisiana State University, Arizona State University, Boston University or Rowan University.
"I think in my core I'm such a programming kind of girl, like, I'm such an events kind of girl," she says. "I definitely think I want to go on to get my masters, which is something crazy — I didn't even think I would get my undergrad degree."
After getting her masters, Ki says she wants to continue working at universities to make students' college experiences as good as they can be.
"My dream job would probably be something that involves orientation and student programming or student activities," she says.
Ki is aware of and grateful for how much her involvement at SPU has changed her for the better. 
"I was so mean to me, back then," she says of her first semester. "I just wish someone would have told me to relax, like: 'It's not that deep.' Everything was the end of the world."
After getting involved, Ki still had some growing to do to meet the demands of being a leader.
"I'm just learning that like, it's not just all on me," she says. "I think this semester I really have been practicing balance and self care, where like, I'm not afraid to delegate tasks or give other people things to do — and if they fail them, you have to be okay with people failing because it can't always just be you."
With this attention to balance, Ki says she's found real contentment with her pursuits.
"I think this year [and] the last semester within itself has been such a huge character development within my [involvement with] student activities and my academics," she says. "I feel like this is the first time where I actually care enough and I'm actually doing well enough."