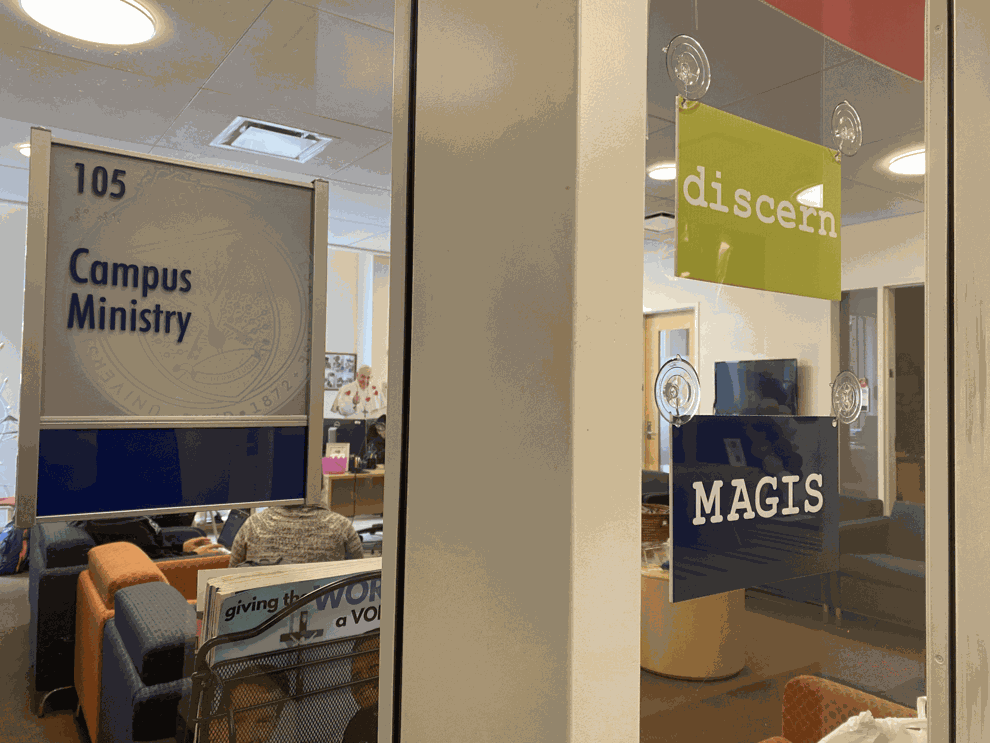 Campus Ministry offers more than just extracurricular activities to students at Saint Peter's University; it represents the mission and identity of the school. The office allows students to have a place on campus where they can serve others with community service opportunities, explore their faith with retreats or just have a safe place to bond with other students. 
The number one misconception about Campus Ministry is that you have to be connected to a religion to be a part of it.  But you don't need to be confident in your beliefs to stop by their offices, as those who work there will tell you. Everyone is welcome regardless of who you are or what your faith is. Many of  their services aren't connected to religion at all.
Carmen Benitez is a senior criminal justice major and a work-study student in Campus Ministry. After always passing by the office and never going in, she was finally encouraged by another student to go to one of the freshman retreats. Even though she was not following any religion at the time, Benitez explained she felt no pressure and was very welcomed to come and hang out. Now she works with Erich Sekel, the Director of Campus Ministry for Community Service,  helping out in the office as well as with retreats and social media.
"I realized that I could be real without anybody judging me. It was like a safe place," said Benitez. 
On April 20, the office hosted a panel titled "All Roads Lead to Saint Peter's." The leaders of Campus Ministry — Father Andrew Downing, Erich Sekel, Father Luis Tampe and Jennifer Monsalve — shared their stories of how they all ended up working at Saint Peter's. Each stressed how different their individual journeys to SPU were while offering advice for the students who will eventually go on their own path after graduation. 
Tempe spoke on how nothing is wasted and how anything you learn can be used later on. He also emphasized that it's important to "leave room for completely unforeseen events." The panel was filled with life advice and personal anecdotes. 
"Campus Ministry are all those programs like religious, spiritual, and service programs that are offered to the students; it's the care of students, the spiritual care of students." said Father Andrew Downing, Director of Campus Ministry and Vice President of Mission and Ministry. 
In his role as the Vice President of mission and ministry, however, Downing has a different set of responsibilities. He explained that in this role he is charged with fostering and sustaining the mission of Saint Peter's to be a Jesuit Catholic university. This consists of more explicitly religious things such as organizing ceremonies, liturgies for the church and services such as the Baccalaureate mass. 
Downing said there are a number of organizations that are a part of the Office of Mission and Ministry that involve students: Alpha Sigma Nu, an international honor and service society for students at Jesuit Universities and Knights of Columbus, a Catholic Fraternal Order that brings men together for service and mission. 
Aside from that, Campus Ministry also works very closely with other organizations on campus including the Muslim Student Association, the Office of Diversity, Equity and Inclusion and the Aidan C. McMullen Chorale, open to any community member who enjoys singing. 
Campus Ministry receives funding from multiple sources. According to Downing, a portion comes from Student Life and Development's student activity fee that is included in tuition. Donations, grants and university operating expenses also contribute.
Monsalve is the Campus Minister for retreats and spiritual life programming on campus. Her main responsibility is organizing the retreat program for students, overseeing all of the operations and supervising the student retreat leaders. 
"It's giving students a space where they can leave their normal environment to reset; it's also just a reset to turn inwardly and be able to look back spiritually into your life," said Monsalve, explaining the purpose of the retreats. 
"Obviously with Campus Ministry, everyone thinks about the spiritual growth, and we're here to encourage that, but we're also here to just welcome students in any way," said Monsalve. 
Monsalve, alongside the other members of Campus Ministry, just wants to encourage students to not be scared to interact with them. "Students can literally just come and hang out, or if they want to talk, we could just talk — we don't just have to talk about religion or your spiritual life but your life in general," she said.
Another big part of Campus Ministry is community service. Sekel states that a part of attending a Jesuit University is having the opportunity to serve others, especially in  the community. 
Saint Peter's students are encouraged to volunteer, but the opportunities are also open to community members and high school students from nearby Saint Peter's Prep and Hudson Catholic High School. 
Volunteer opportunities are available in the Campus Kitchen, Food Pantry and the Clothes Closet, both through donation and in-person volunteering. 
"Every opportunity is a learning opportunity. Just get involved, pick something, try something," said Sekel about how he encourages students.
That's the Campus Ministry goal: to provide a space for students where they can come be themselves, explore their faith, do community service or just find someone to talk to.