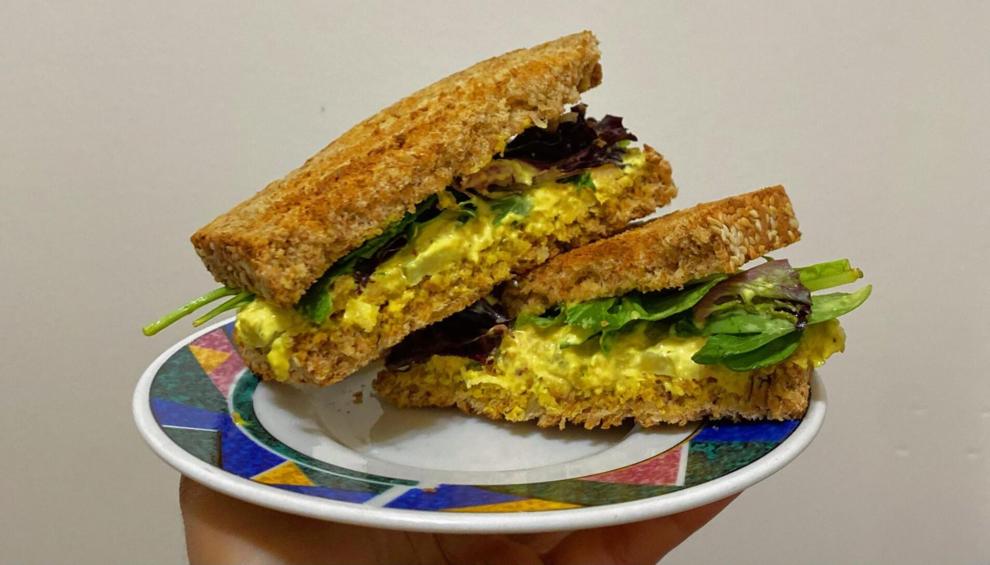 Let's be honest: sometimes, not everyone feels like ordering out. Also, what if the dining hall isn't serving the food we feel like eating? Or what if the food being served sounds good, but when you get it, it doesn't meet your expectations? 
Chickpea Smash is a dorm-friendly recipe because you don't need any appliances besides a medium-sized bowl, can opener, knife and spoon. 
In five minutes, you can prepare this healthy and easy dish that can also easily be made vegan. The recipe can be prepared the night before or just before serving.
The Chickpea Smash isn't your ordinary sandwich — it's also good for you. It contains two anti-inflammatory ingredients: turmeric and black pepper. 
Turmeric, also known as curcumin, is a member of the ginger root family and has scientifically proven health properties. Curcumin has the potential to improve heart health and prevent against Alzeheimer's Disease and cancer. It is also a supplement for a variety of conditions, including arthritis, digestive disorders, respiratory infections, allergies, liver disease, depression, and many others.
Black pepper is a powerful antioxidant in addition to having anti-inflammatory properties. It also helps with digestion and can prevent diarrhea. 
Chickpeas, also known as garbanzo beans, have a nutty taste and grainy texture that pairs well with many other food options, and they are a common ingredient in Mediterranean cooking. Chickpeas are high in protein and help you feel full for a longer period of time. 
Now that we know a few health facts about the recipe, we can enjoy it guilt-free.
Note: This sandwich leans more toward a savory taste. If you decide to add diced onions into the mix, it will add some spicy flavor. 
Chickpea Smash 
Servings: 2-3
Ingredients
1 can of garbanzo beans (chickpeas) drained

6 tbsp regular mayo or vegan mayo

¼ tsp dill spice or ¼ cup of fresh dill

1 tsp of turmeric

¼ cup of chopped pickles

Salt and pepper to taste

Seeded bread or bread of choice
Optional Add-In:
Optional Add-ons:
Sliced avocado

Microgreens

Sliced tomato

Spring salad mix or any leafy green mix
Directions:
In a bowl, mash the drained can of chickpeas for 1 minute and 30 seconds.

Add all of the spices, pickles and mayo to the bowl with the chickpeas

Once fully mixed, spread the mixture on your bread of choice.

Add spring salad mix or any of the suggested add-ons.
This sandwich is great as a midday snack, lunch, dinner, or even for that late night trip to the kitchen. Feel free to pair it with chips or fruit on the side.