It's Hispanic Heritage Month, a month-long celebration of Latin American people, their cultures and most importantly their food.
Although several Latin American countries share similar dishes, they each make it with their own diverse flavors, making it unique tasting to each country.
Here are five dishes from five different Latin Americans countries: street food edition.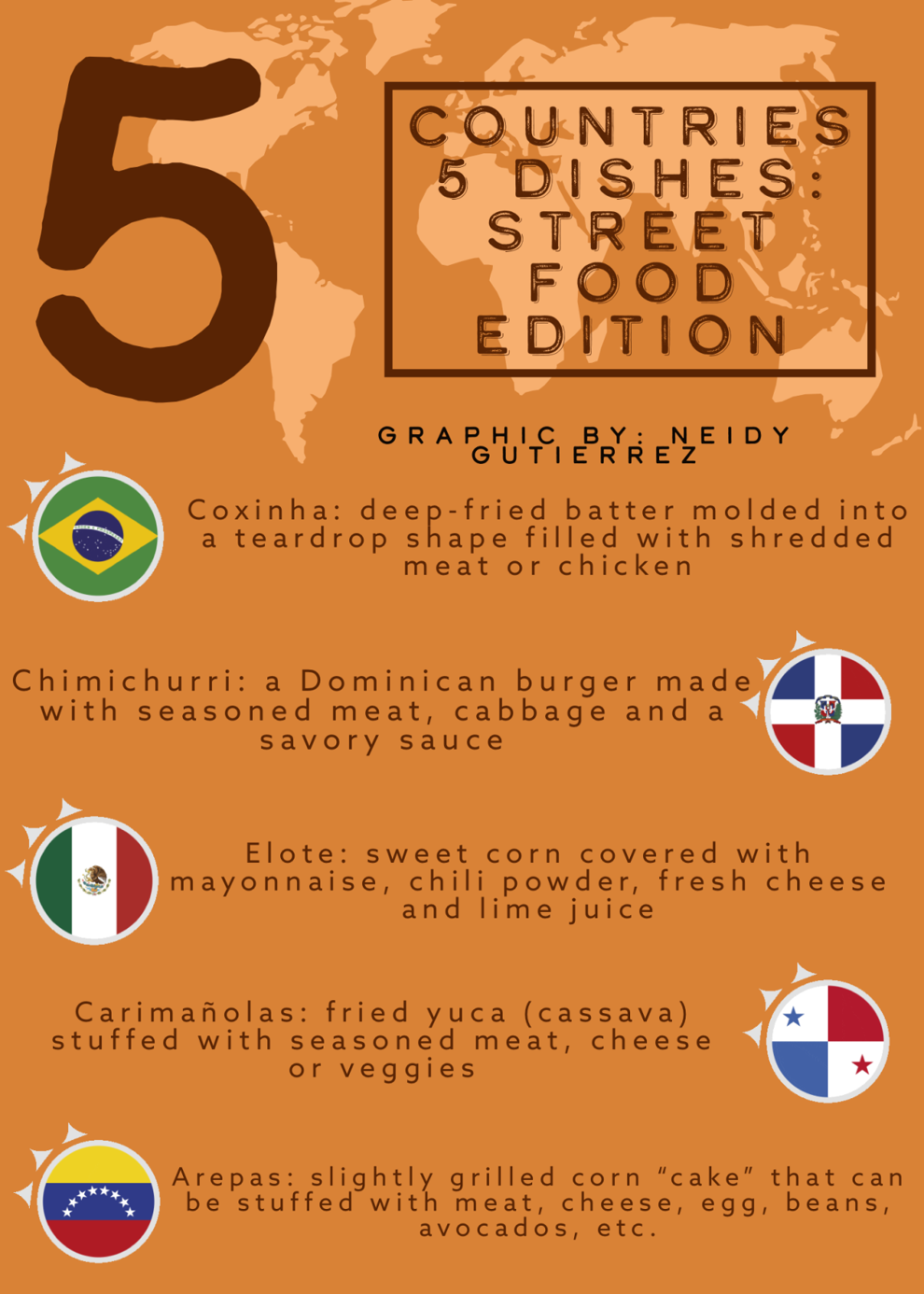 Brazil - Coxinha
Coxinha, which translates to chicken thigh in Portuguese, is a common street food in Brazil, especially found in São Paulo. It's a deep-fried batter filled with shredded meat or chicken molded into a teardrop shape.
Dominican Republic - Chimichurri
A chimichurri in Dominican Republic is a burger (not to get it confused with the Argentinian sauce). Natives usually just call the burger "chimi." So what's so special about this Dominican burger? Well, it's the combination of picking the right bread, seasoning of the meat, cabbage and of course, the sauce that brings it all together.
Mexico - Elote
An elote is sweet corn served on a wooden stick making it the perfect street food. An elote is grilled and traditionally covered with mayonnaise, chili powder, crumbled queso fresco (fresh cheese) or Cotija cheese and lime juice. Although it can get a little messy, you'll know it worth it after the first bite.
Panama - Carimañolas
Carimañolas are stuffed fried yuca (cassava) fritters. They are usually stuffed with seasoned meat and cheese, but they can also be stuffed with veggies. Although they resemble empanadas, the texture and the taste makes it slightly different.
Venezuela - Arepas
Arepas are a hard-to-miss staple in Venezuela. Arepas are made of ground kernels of corn maize and placed on a griddle to give it it's signature grill lines. The best part about the arepa is that you can fill it up with whatever you desire. However, some popular fillings are meat or eggs with toppings such as avocado slices, cheese, etc.