For many people in Jersey City, the waterfront at Exchange Place is somewhere to jog, read or daydream. But for Chris Feliz, it served as the setting for his first snapshot and foreshadowed the rest of his career.
"Why not? It's home," said Feliz, 23, shrugging his shoulders. "I'm showing off home."
A few years and dozens of photos later, Feliz finally showcased his work at his "WhereNJmeetsNY" art gallery this past month at Headroom Bar & Social in downtown Jersey City, less than 15 minutes away from where he took his first photograph. Feliz said he plans on doing different projects in states and cities, but one thing that's not going away is his love for where he's from.
It all started in 2012.
Feliz was born in Jersey City, but was raised in Union City where he attended Union City High School. He said he passed by the waterfront at Exchange Place quite often while traveling to Bayonne to visit a friend, but he never stopped to look.
As soon as he got his camera, that was the first spot he went to and only shot pictures for a week; he wasn't able to go back to it until 2017 because of school.
June 19, 2017 he was back at it. He got his camera, and two days later, he created his Twitter account without followers -- like everyone else.
"When you start (on social media), you start at zero," Feliz said. "(But) there's two things that go in: it's the work and it's the results. You see the results; some people don't see when you're at zero."
Today, Feliz has over 7,300 followers and has accumulated thousands of likes and retweets on his work. His latest series called "Portrait Mode" has over 200 likes. On Instagram, he has over 3,100 followers.
"Portrait Mode"Series' 📸 pic.twitter.com/KmTf1NCqp9

— Chris Feliz 🇩🇴🇵🇷 (@ChrisFeliz_) March 18, 2019
But "Portrait Mode" is just one of his various projects. The 23-year-old is most known for his "I'm From Jersey," "New York" and "Snow Storm" series, all of which have caught the attention of thousands on social media.
"I'm From Jersey" captures places not even locals can recognize sometimes. Feliz can heighten the color of the sunset on the bridge that leads to Route 1 and 9, and can make traffic in Journal Square look so calm and cool as well as making the taxi cabs look so clean and polished.
And for some, Feliz's photos hit them with nostalgia.
"Those pictures made me feel like I was home," Karina Pereira said. "And I was happy."
Pereira— who had moved to North Carolina — interacts with the photographer's "I'm From Jersey" series on Twitter as a way to stay connected to her hometown, which she plans on moving back to.
Feliz has allowed his followers to see dozens of captured moments in Journal Square and Liberty State Park to Chinatown and Dumbo in New York City. He's asked his followers on Twitter if they prefer the New Jersey or New York series and -- just like the Twitter poll -- he says the race is pretty close.
Feliz laughed as he explained, artistically, that New York is easier to take photos of and create art from because there's so much more, which isn't the case with Jersey.
"New York doesn't give me much of a challenge because of how much they have," he said. "But believe New Jersey does, because of how much we don't have."
Yet he acknowledges that both places have "two different feels," which is an important component to his work.
The picture that's given him the most feeling wasn't taken in Jersey City nor New York; it was taken in Edgewater where birds swooped into his frame as a late sunset filled the background.
"I go off the feeling," he said, shaking his head. "Catching the birds was a feeling I'll never forget… It's not like you're gonna go out there and be like, 'Alright, I'm gonna go catch some birds.' You just feel in tune with yourself."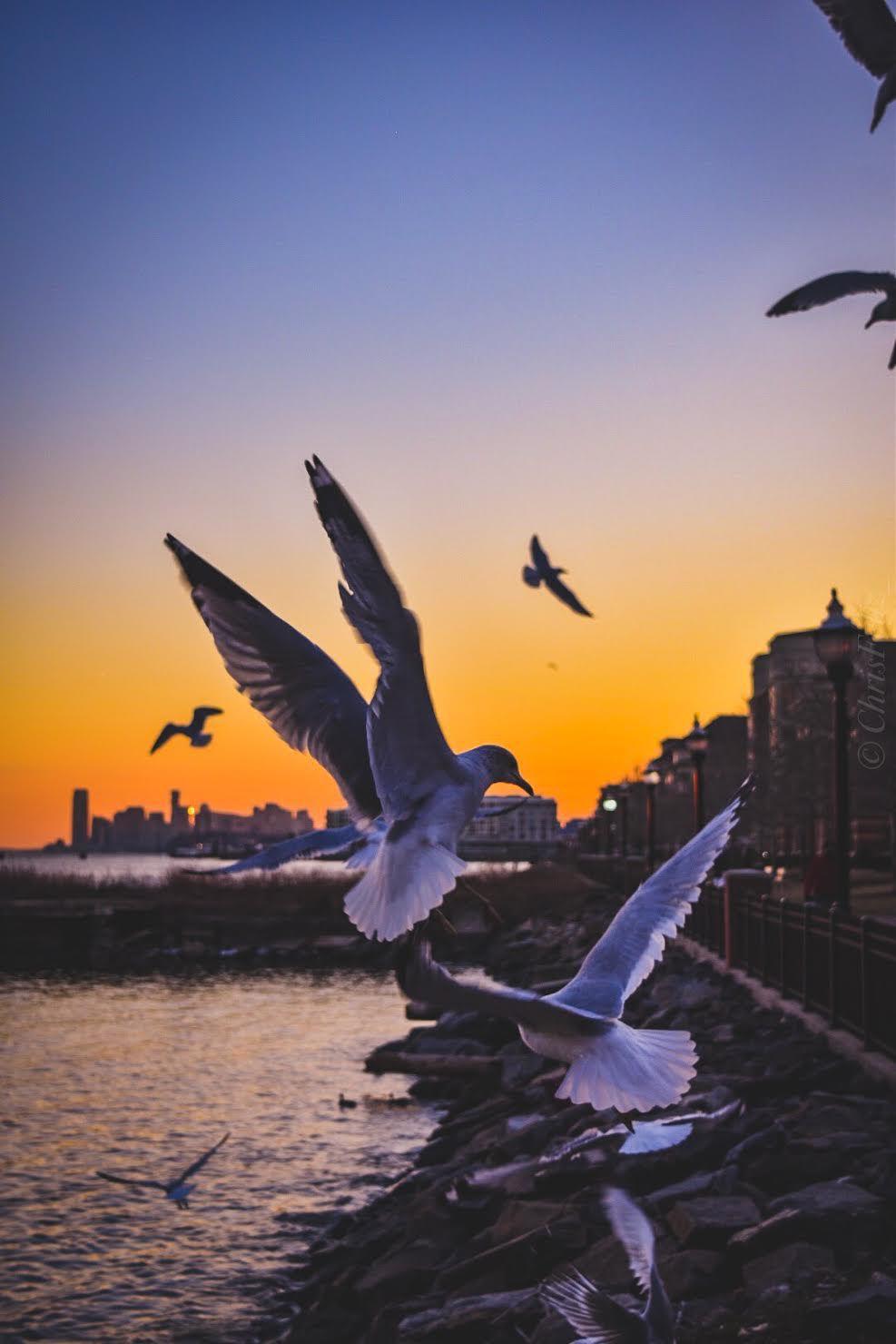 Feliz shot photos for months -- from Sunday to Sunday, 6 a.m. to about 2 a.m. -- trying to become more in tune with himself and figure out his style for photos. He said he'd edit what he shot into how he envisioned it and, once he got the hang of it, he thought, "Man, I would love to host my own gallery."
The thought fluttered in the back of his head in the beginning of last year as he continued to shoot pictures and gain more followers. It was then one of his followers who helped him plan the event, book the date and reserve the venue; then another one who made his outfit for his special event -- literally.
Breanna Knights, of New York, designed Feliz's personalized tracksuit for the show, but this wasn't the first time the two helped each other out. After meeting through mutual retweets on Twitter early last year, neither one was shy of supporting one another; whether it be Knights retweeting Feliz's latest series or Feliz commenting on Knights' newest design.
"If I can make him another outfit or he can shoot my work, we just both benefit from one another," Knights said. "I'm so grateful for someone like him, honestly."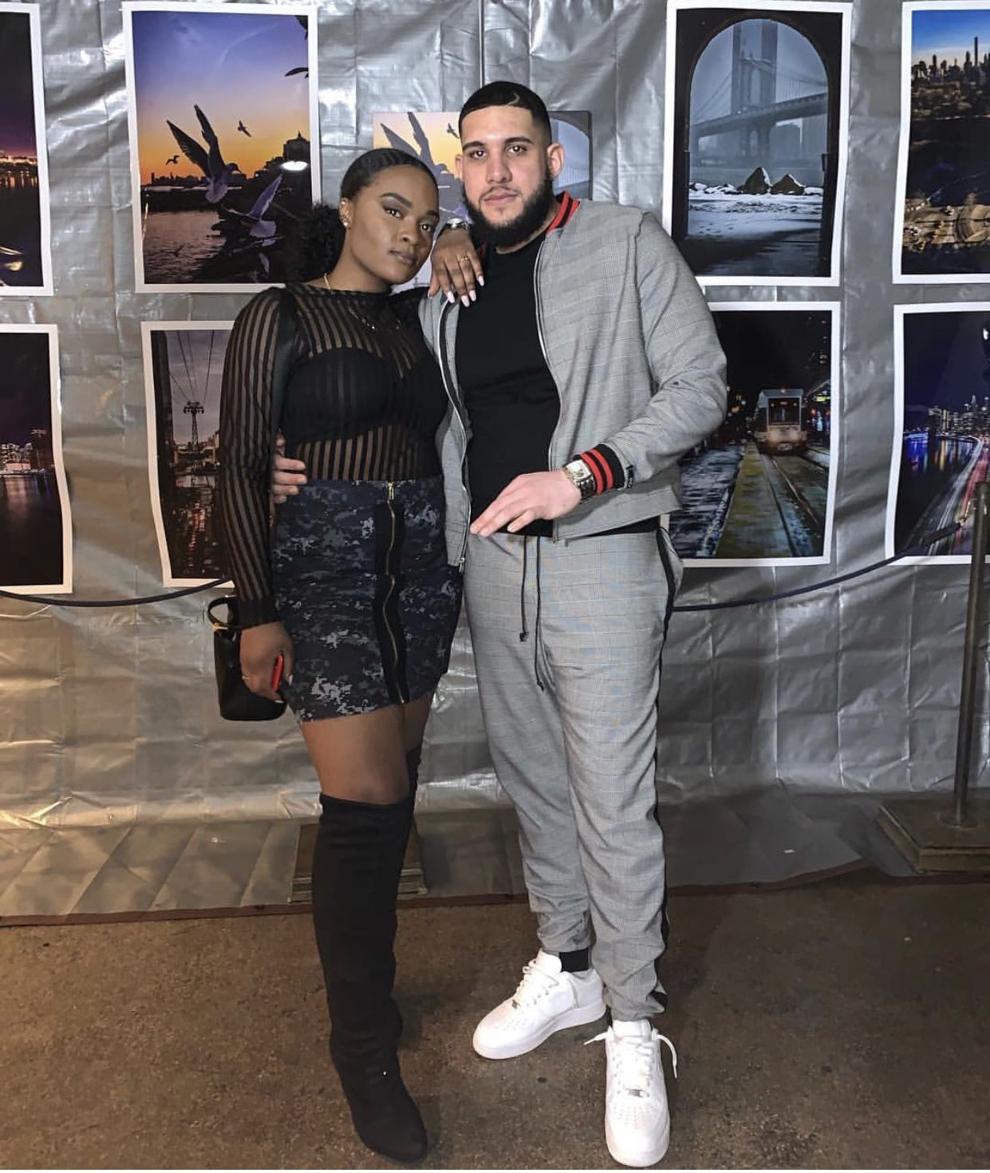 Knights was just one of a hundred people who came out for Feliz's art show. Along with his work, the event featured food, bar drinks and a DJ.
But the photographer's biggest takeaway was how everything he was doing on Twitter was brought to life -- his artwork, the people, his handmade outfit -- almost as if NJ literally met NY, which is something he hopes to do with his art.
"I always see how people down talk on Jersey," Feliz said. "I love the way I've made New Jersey look… We have our own vibe."
From taking his first photo in 2012 to selling his first canvas piece in 2019, the 23-year-old knows it's been a long journey. He said he feels blessed for investing in himself and others investing in him, which is something he advised Knights.
"He's given me so much good advice on just valuing my craft and believing in my work," she said. "And just not underestimating my own value."
Feliz continues to work on his own craft through new series, people and places. Though the Philippines and Japan is the next big step for him, he knows where his loyalty lies.
"I always say I'm from Jersey," he said. "I don't care where I'm at, I'm from Jersey."